15 Grooms with Unique Wedding Style That's On Point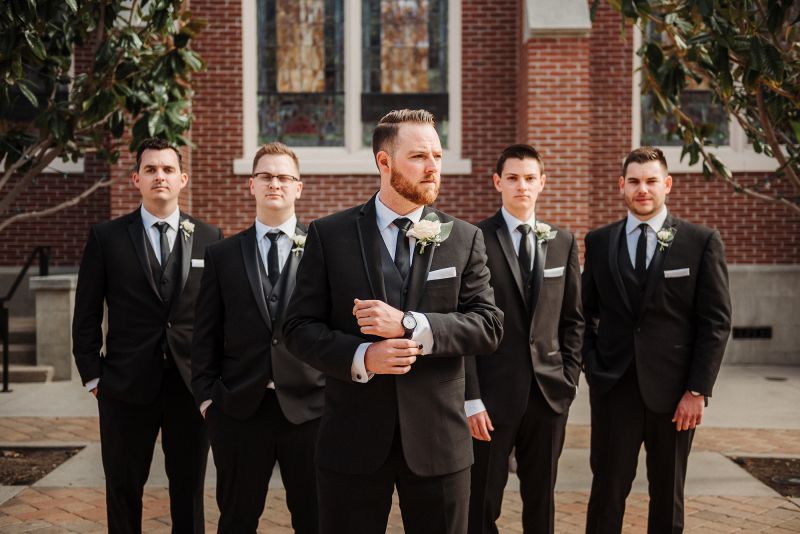 After wearing these outfits you would see how they make you stand out of the crowd. This differs from person to person because the body type and size and also the groom is supposed to wear what he feels like would show his personality completely and would be comfortable in while celebrating his big day specifically if he is a fashion lover. 
The groom is not much highlighted just like the brides because of their fancy gowns and due to this, the grooms are left out usually. Regardless of wearing that tuxedo or suit, that is the best he can do. But there is not much change and all the grooms look like each other or sometimes look exactly like their groomsmen. But that does not mean they do not look different at all, what one can do is work with traditional and modern look side by side and which works perfectly with their wedding theme. In this way, they are expressing their style and their personality. 
But sometimes some men do not want to go traditional and want to go with the trendy and fast-forward look and we want you to do that as well. But make sure you pick the right choice so that when you look back, you do not feel awkward about your choice in those days. It would be better to not go over the top and just use some colour in your tie and pocket square. If you want to appear bold, you could go for those white sneakers or loafers instead of the black oxfords. To make a daring statement, you would want to mix and match your jackets, and if not that then you can go for those grey, navy, tan, taupe or even white suits.
 Some of the inspirational for weddings include a lot of unique styles. Wearing a white tuxedo jacket with a custom bowtie with the ebony lapels is surely some kind of a look.
 If you are going to a beach wedding, you would want the colour scheme to be light instead of dark. It could be some light colour in a linen suit while you wear your brown shoes and stay cool for the rest of the event.
 To stand out of the party of your groomsmen, you can wear those donned light coloured slacks with a navy jacket and a bowtie while rest of your boy squad wears those dark suits with the light blue ties. Incase your bride is wearing a minidress, you can go for a more casual style and wear a blue jacket with the dark pants and paisley tie for looking the best and not too formal. 
Another idea to stand out of your groomsmen includes wearing that blue windowpane jacket along with classic black trousers and those shiny black formal shoes. 
You can even wear a trendy grey shut having black lapels to it, an ebony bowtie and those dazzling cufflinks which would be popping. You can brown or black oxfords with it.  
Going all black is never too risky, all you need to do is be careful about those accessories including a bowtie, cufflinks and even boutonnieres to even out the extreme bold look. 
If you still want to be looking like the leader of your groomsmen, the groom can wear a light blue suit as compared to those dark blue suits of groomsmen and wear the oxblood-hued ties for the nuptials. 
I want to stay traditional, nothing would work better than wearing a white dinner jacket with those black lapels because you can make one hell of an entry with it. 
To make your wedding tuxedo special, you can ensemble the inside with royal cloth as that being a special detail to it. It would surely stand out from the rest of the tuxedos. 
Wearing a is not always important because you can still pull off that look of the crisp white button-down shirt while you wear your grey jacket and slacks. Just make sure it is according to your fitting and the rest would be fine. 
If you are looking for that extra dose of personal style to your tuxedo, that subtle pattern on it would be the best thing. It would look great with your bride's gown for sure. 
If you are not satisfied by those ideas above of looking different from your groomsmen, we are here with another one where the groom can wear an alabaster tuxedo jacket along with the ebony lapels while your groomsmen wear the dark-toned suits. 
If you want to go along with the wedding theme and décor, you can work out with the black and gold sharp suit jacket. It would be trendy and be great on you. 
If you think that wearing the black and white suit which is a traditional one, has been pretty much old, you are wrong there. Just change those buttons, wear the modern cufflinks and have the accessories according to your personality and nail your outfit. 
If you want to look for more inspiration, we would suggest you visit our other articles and discover the best advice from the real grooms.