How To Look More Muscular | 7 Tips For Men Who Aren't Buff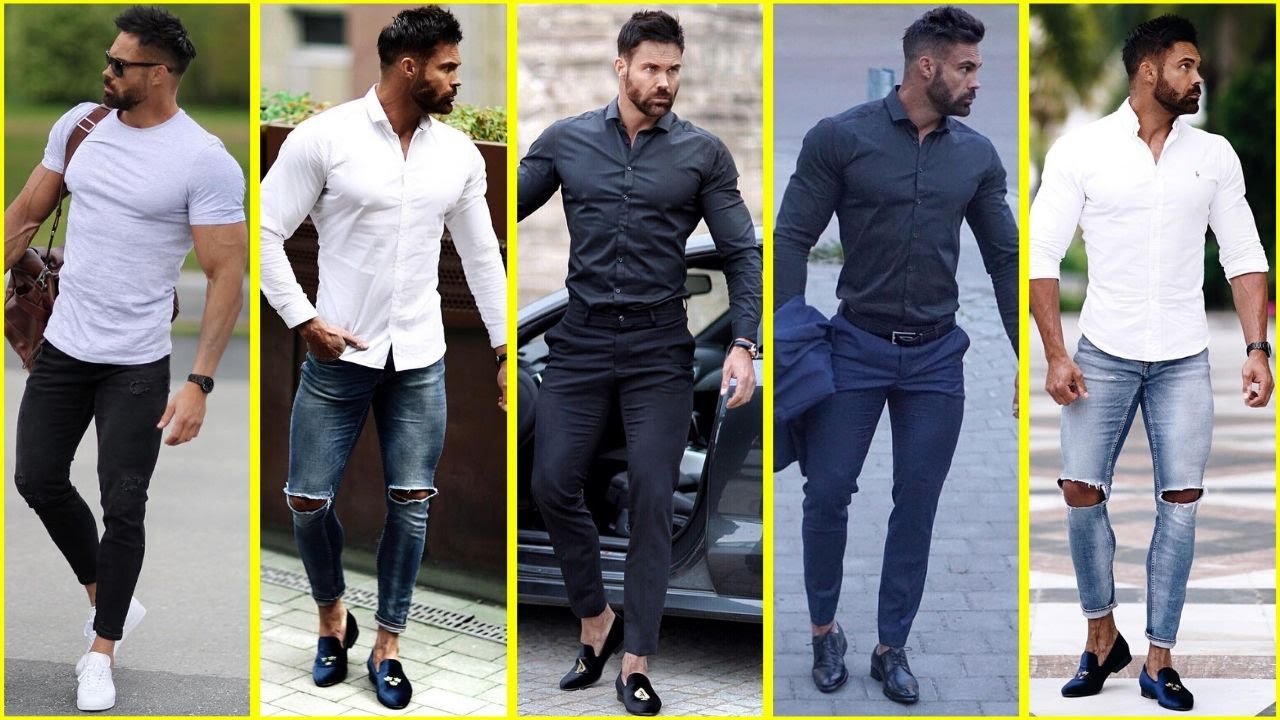 Just like everybody else in the world, men also overthink about their bodies and take notes of certain body issues and similarly just like everyone else, they forget that no one is perfect. But when it comes to impressing ladies on the occasion, well, every guy wants to be the best for that purpose. So mostly everyone around suggests that for that purpose one needs to have the best diet and go to the gym. Whereas that is not the best solution to be attainable in a short period. We have a few tips which would help you understand what do you need to wear to look perfect for the occasion. 
Muscular Style Tip 1 – Nail the Fit
The most heard statement which is relatable to the situation here is that fit is king. You cannot slay your vibe and style without the perfect fit of the clothes to your body. Not everyone has the athletic body even in film industries, and so for the reason of men looking the best, their suits do the work for them which are pretty my h close to the body. There is space given to the parts like stomach and flabby areas. Because of hiding, it seems like those parts are built instead of looking fat. So you need to have an outfit drape which is perfect over your body. It should not look as if they are extremely skin-tight or even too baggy and if that is the case, you better consult your tailor for the adjustments. 
Muscular Style Tip 2 – Wear a Top That Builds Up the Chest & Shoulders
Not most of the men have six-packs but still look I credible without them and that is when they accentuate their upper torso. You need to make your chest and shoulders look bulkier because that would give in more weight to the layer on the outermost part. If you button-down near your chest pockets, it would give in a casual look. Apart from that, your best suits or the sports jacket are supposed to be well-tailored according to your fit where it makes your shoulders look as if they are built up and you can wear those jackets when needed. The denim or leather jacket is great to give in the bulk when you are about to go to a party or a social event without any rules and dress codes. 
Bonus Tip: Use Accessories That Match Your Proportions 
You should not go for any accessory which you think would take all the compliments and stands out of the whole outfit that you are wearing because it does not work for you, so just go for the watches and other items which can make your body parts look heavier but not oversized and loud. So better go for the watch which is simple, sophisticated and elegant having muted features to it. You do not need to keep saving up money just to buy a watch which is high-quality watches when you can still get one in the same quality from the Original Grain. 
There are different designs in it including classic, barrel, minimalist, chrono, champion, whiskey, maple, rosewood, ebony and verawood etc. The combination of them includes stainless steel the exotic hardwood and the leather bands which go along with your upper body when you wear a suit or even long-sleeved shirts. 
Muscular Style Tip 3 – Go With Long Sleeves 
Your arms need to look remarkable when you flex them but if that is not the case, leave them covered. We know that non-muscular guys do not like to wear short-sleeved shirts as they expose their thin and flabby arms. Moreover, it looks really bad when the skin colour is contrasting sharply with the colour of the shirt. If they wear long sleeves, the arms would look defined due to the illusion created because of the extra fabric. In summers, you may roll up the sleeves till the elbow and you can add more bulk to the arms because of the folds. 
Muscular Style Tip 4 – Use Collars To Cover the Neck 
You can size up your neck through wearing collars as those bulkier ones would hide the double chin if you are a bit fat. Moreover, you can have so many options in it including the polo shirts, the casual button-downs, the turtlenecks and the collared sweaters etc. 
Muscular Style Tip 5 – Wear Heavier Fabrics & Weaves 
 Leather and denim are considered to be one of the heavyweight clothing materials. There are tweed, corduroy and flannel included with a textured look in it. They help in building the upper body without striking at your silhouette. It is nice to get your jackets and shirts in these fabrics and you can see the difference to yourself about it and are the best materials for a masculine appearance. 
ALSO READ: Top 10 Boutonnières Trends for 2021
Muscular Style Tip 6 – Make Use Of Lines & Patterns 
This goes better for the thinner guys as it does wonders to the chest and shoulders while wearing these checked patterns and horizontal lined shirts and jackets. These designs help in boosting up the weight usually perceived on you as the torso is seemed to be expanded by it. 
Muscular Style Tip 7 – Layering Your Clothing 
The purpose of this is to have various layers which are well fitted giving that pad to the upper torso. The strategy to do it so is to wear the undershirt, wear a shirt on it and then wear a light weighted sweater or some sports jacket on top of it while considering your body frame. The fit if each item needs to be perfect. Whereas if your body is big, you may not want to accentuate the rounder parts of your body while wearing the light-weighted fabrics.