GentWith Venus Brown Slim Fit Pinstripe Suit
Out of stock
 Support: 24/7 Customer Support via Whatsapp, Facebook and Email
 Delivery: Free Shipping Worldwide
 Checkout: Safe & Reliable Payment Process
NOTE: Before placing an order, please check the size chart that is given below. Please scroll down and see your correct measurements. These are universal measurements, may be it has some centimeter deference in size due to fabric flexibility.
×
How to Measure GentWith Suits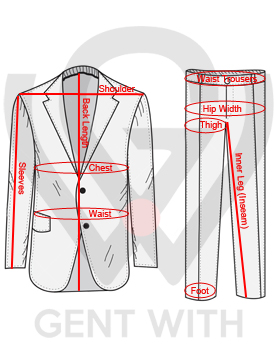 *Manual Measurements, 1-3cm error is normal.
| SUIT JACKET SIZE (Inches - CM) | EU46/US36 | EU48/US38 | EU50/US40 | EU52/US42 | EU54/US44 | EU56/US46 |
| --- | --- | --- | --- | --- | --- | --- |
| JACKET BACK LENGTH | 27.4in - 69.6cm | 27.7in - 70.5cm | 28.1in - 71.4cm | 28.4in - 72.3cm | 28.8in - 73.2cm | 29.1in - 74cm |
| CHEST (Underarms) | 38.1in - 97cm | 39.7in - 101cm | 41.3in - 105cm | 42.9in - 109cm | 44.4in - 113cm | 46in - 117cm |
| JACKET WAIST | 34.2in - 87cm | 35.8in - 91cm | 37.4in - 95cm | 38.9in - 99cm | 40.5in - 103cm | 42.1in - 107cm |
| SHOULDER | 16.1in - 41cm | 16.6in - 42.2cm | 17in - 43.4cm | 17.5in - 44.6cm | 18in - 45.8cm | 18.5in - 47cm |
| SLEEVE | 24.8in - 63cm | 24.8in - 63cm | 25.2in - 64cm | 25.6in - 65cm | 26.1in - 66.3cm | 26.4in - 67.3cm |
| ---------- | ---------- | ---------- | ---------- | ---------- | ---------- | ---------- |
| SUIT PANTS SIZE (Inches - CM) | 30W | 31W | 32W | 33W | 34W | 36W |
| PANTS WAIST | 30.7in - 78cm | 32.2in - 82cm | 33.3in - 84.6cm | 35in - 89cm | 36.6in - 93cm | 38in - 97cm |
| HIP WIDTH | 37.4in - 95cm | 38.9in - 99cm | 39.7in - 101cm | 41.3in - 105cm | 42.9in - 109cm | 43.7in - 111cm |
| INNER LEG (INSEAM) | 34.8in - 88.5cm | 34.8in - 88.5cm | 34.8in - 88.5cm | 34.8in - 88.5cm | 34.8in - 88.5cm | 34.8in - 88.5cm |
| UPPER THIGH | 23.6in - 60cm | 24.4in - 62cm | 25.1in - 64cm | 25.5in - 65cm | 26.3in - 67cm | 26.7in - 68cm |
| FOOT WIDTH | 13.2in - 33.6cm | 13.5in - 34.4cm | 13.8in - 35.2cm | 14.1in - 36cm | 14.3in - 36.4cm | 14.5in - 37cm |
| BALD LEG | 16.9in - 43cm | 16.9in - 43cm | 17.3in - 44cm | 17.7in - 45cm | 18.1in - 46cm | 18.8in - 48cm |
Collection: Spring – Summer 19
Product: Slim-Fit Pinstripe Double Breasted Suit
Color Code: Brown
Available Size:  46-48-50-52-54-56
Suit Material: 65% viscose, 32% polyester, 3% elestan
Machine Washable: No
Fitting: Slim-Fit
Cutting: Double Slits, Double Button
Package Include: Suit Clothes: Jacket and Pants
DRY CLEAN ONLY
You may also like: Acacia Black Slim Fit Tuxedo  –    Fitmop Brown Slim Fit Suit   –   Vental Gray Slim Fit Suit
| | |
| --- | --- |
| Suit Jacket & Vest Size | EU 46/ US 36, EU 48/ US 38, EU 50/ US 40, EU 52/ US 42, EU 54/ US 44, EU 56/ US 46 |
| Suit Pants Waist Size | 30W, 31W, 32W, 33W, 34W, 36W |