MEN'S SIZE CONVERSION CHART
Most GentWith slim fit garments come in European sizes. Please refer to the chart below for measurements and to convert your usual size to the correct European size. You can find hints on measuring yourself accurately below.
Let's start with the chest size. In order to measure your chest, you'll need a tape measure and, ideally, a mirror so you can see what you're doing.
1. Remove your clothing from the waist up (you can keep a T-shirt on, but it may affect your reading slightly).
2. Stand normally, without flexing or puffing out your chest (again, this could affect your final reading).
3. Wrap the tape around the widest part of your torso, roughly at your nipple line. The reading at the point the tape meets is your chest size. Remember to add on a little if you prefer a looser fit.
The easiest way to find your chest width, is to take a jacket, shirt or jumper that fits you well and lay it down on a flat surface. Measure from armpit to armpit to get your chest width – also known as a pit-to-pit measurement.
Be aware that men's shirts and outerwear sizes can vary from style to style, so refer to our GentWith sizing chart if in doubt.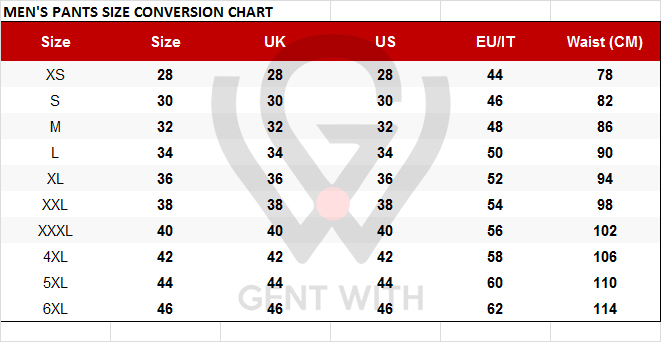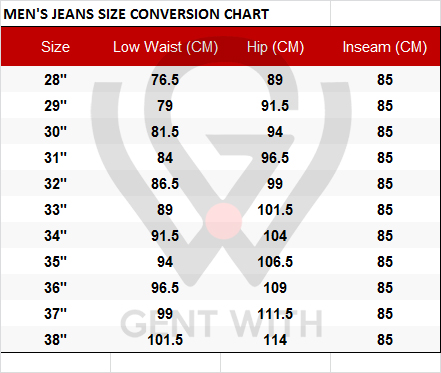 Just like the chest measurement, in order to accurately measure your waist size, you'll need a tape measure and a mirror so you can see what you're doing.
1. Firstly, it's important to first work out where you want your trousers to sit in order to get the correct size. Men's jeans and trouser sizes will vary between higher waisted styles (often vintage cuts) worn above the hip, and regular men's jeans and chinos that sit on the hip. 2. Once you have worked out where you want your trousers to sit, remove your trousers (you can keep your underwear on).
3. Take your tape measure and wrap it around yourself, pulling it so that it's snug without digging in. The reading at the point the tape meets is your waist size.
Your reading will be accurate, but be aware that men's jeans sizes can vary from style to style. If you're in any doubt about the fit, refer to our GentWith men's size guide for more detail on men's trouser sizes.
Men's jeans sizes are not always an exact art, and nowhere is this truer than the inside leg measurement. For instance, if you're buying a pair of our selvedge jeans and want to wear them with a turn-up, then you'll need to allow a little extra length.

The following method will give you the perfect reference point to work from and is ideal for finding men's trouser sizes and jeans that you don't intend to wear rolled up.

You might need to enlist some help with this, it's a tricky one-man job.
1. Take your shoes off to ensure an accurate reading.
2. Measure from the lowest part of your crotch to where you want the jeans or trousers to sit. Use the ankle bone for reference.
3. While standing straight, make sure the tape is snug along the inside of your leg and then measure.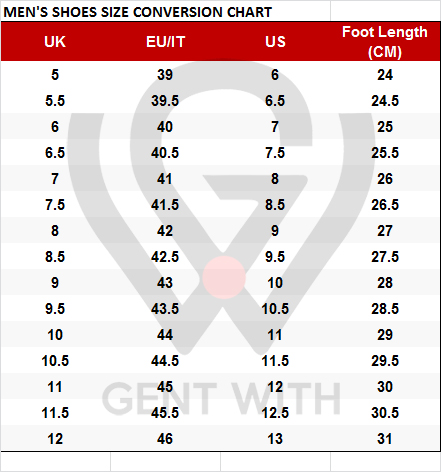 Men's shoe sizes can be a sticking point when it comes to buying from other countries, but don't worry. Our men's shoe size chart will help you convert UK shoe sizes to their US men's counterpart quickly and easily.
As with US sizes, we realise that translating a UK shoe size to the EU men's sizing isn't always straightforward. Our men's shoe size chart also has all the corresponding EU sizes for easy, at-a-glance conversion.
If you're looking for the UK equivalent of US men's shoe sizes, then our men's shoe size chart is your go-to guide. You'll find US, UK and EU measurements all cross-referenced to make conversion as simple as possible and ensure you get the right shoe size every time.

Our men's belt size chart shows our available sizes in both centimetres and inches. When working out your belt size, for men we recommend adding on two to three inches (5 to 6 cm) to your waist measurement.
We'd recommend sizing up. Should you need any further assistance, you can contact our customer care department who will be happy to help.
Chest: Measure around the fullest part of your chest, keeping tape firmly under your armpits and around your shoulder blades.
Low Waist: Measure around your waist, slightly below your natural waist, where you normally wear your trousers.
Hip: Measure around the fullest part of your hips.
Overarm: Measure the length of your arm, from nape to low shoulder point, then down to the wrist bone.
Inner Leg: Measure from crotch to floor without shoes.
BETWEEN SIZES?
If your measurements are in between those listed in the size chart, pick the next larger size.
If you have more questions visit our Height and Weight Size Recommendations or Contact Us.