One Week Outfit Ideas with just 11 Pieces of Clothing
One week outfit ideas with just 11 pieces of clothing? You can't believe. No worries everything is possible. Here GentWith Stylist compiled just 11 clothes to present one week outfit ideas in such an amazing manner. Scroll down to read: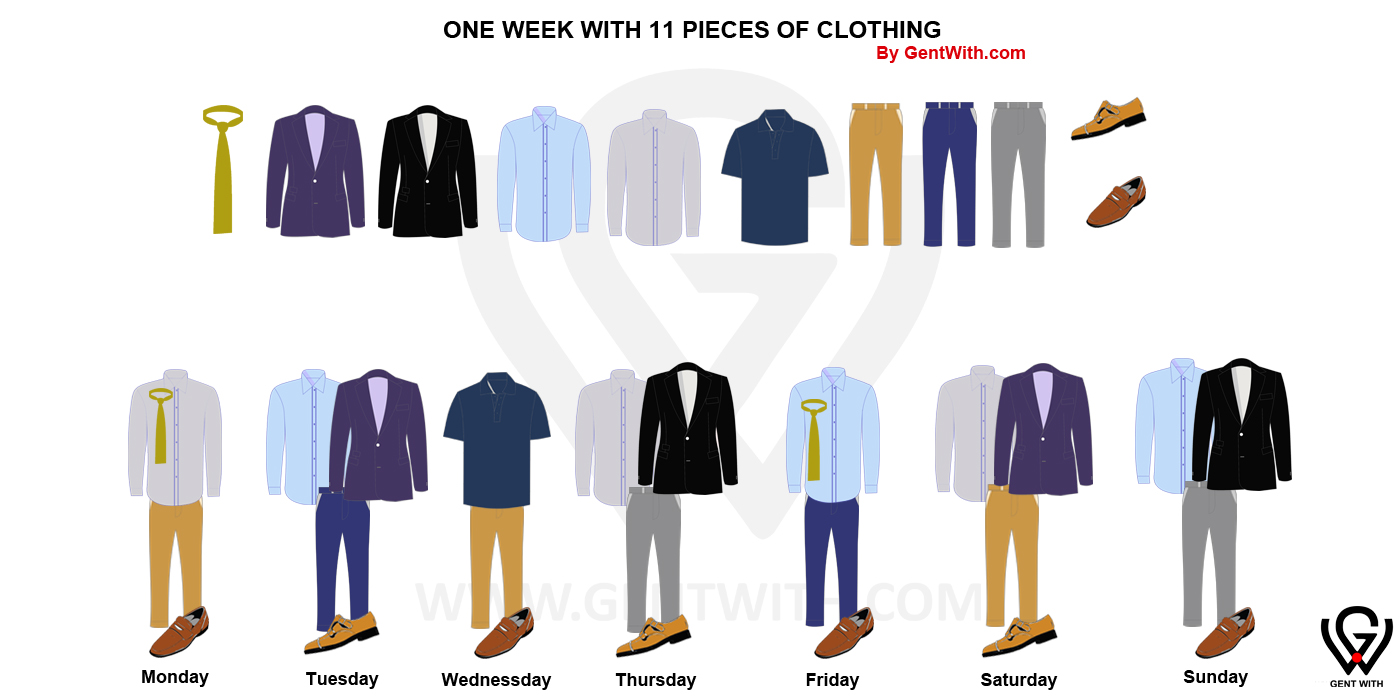 What you need:
1 Neck Tie (Mustard)
2 Blazers or Jackets (Navy Blue and Black)
2 Dress Shirts (Light Purple and Sky Blue)
1 T-Shirt (Navy Blue)
3 Pants (Brown, Gray and Blue)
2 Shoes (Mustard and Brown)
*You can select any color according to your choice and availability in your wardrobe.
One Week Outfit Plan:
Monday: Finally Monday is here, so its first day of week. You should wear something decent to boost your confidence for the rest of week. I suggest you to wear a dress pants with dress shirt and a matching neck tie. I have selected brown pants with light purple dress shirt and a mustard tie.
Tuesday: This is second day of week and you must change your taste. Wearing a blazer with dress shirt and pants is good choice. But you should keep in mind if you are wearing a dark color pants and blazer, your shirt should be light color and if you love wearing dark color shirt you should wear light color combination of blazer and pants. Blue pants make a perfect combination with sky blue dress shirt and Navy Blue Blazer.
Wednesday: After two days of looking dope, now you should wear something formal and I suggest you to wear a t-shirt with a pants or jeans. You should make combination of light and dark.
Thursday: Gray pants with black blazer are a wonderful choice for Thursday.
Friday: Friday is most important day of week. This is the day when you should match a light color shirt with dark color pants and tie. I recommend Blue pants with sky blue shirt and mustard tie.
Saturday: From last two days you were wearing dark color pants. Now you should wear a darker blazer with brown pants and a navy blazer.
Sunday: Last day of week. Now you need energy for next week so don't choose dull colors. Wear gray pants with black blazer to boost your energy for next week.
Important: You can match any shoes with these outfits. It's your choice if you love oxfords, monk straps, sneakers or loafers. This is most ideal one week outfit ideas with just 11 pieces of clothing.