A White Suit is the Sharpest Style Statement a Man Can Make; Here is the Right Way to Wear It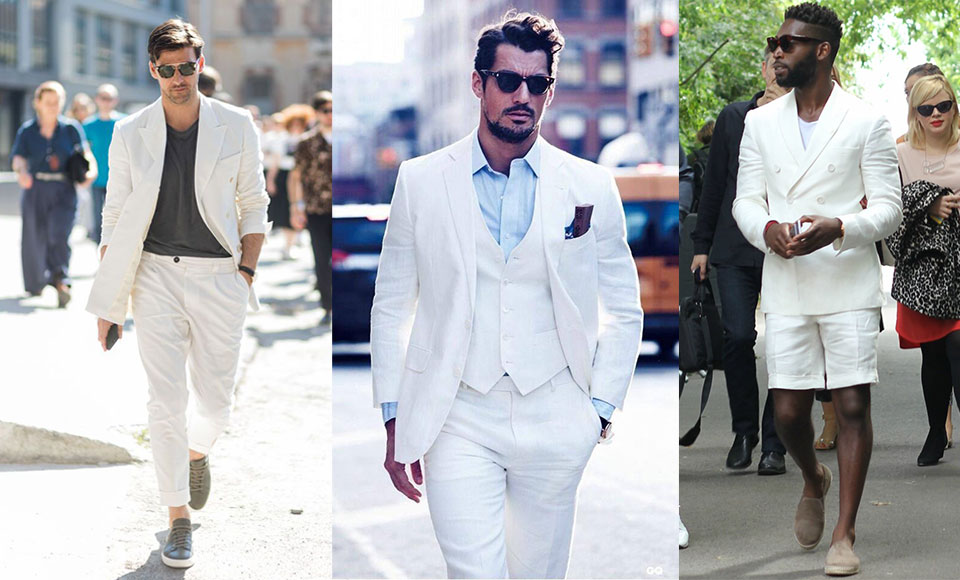 When you think about a white suit, you would or anyone around you would pictures Jay Gatsby and Al Pacino characters from the movies in the 2000s. However, if a guy would be asked to wear a white suit, they would get confused and might even faint because of the fear of not looking so great in it. 
The white suit is considered to be one of the boldest fashion statement even in the tailoring taste. If one can pull it off with great confidence, he would have that chicness to him and would be the showstopper of the occasion. The ways of wearing white suits are described below. 
How To Wear a Formal White Suit 
The white is the king of colours because of its formality and it is pretty cold when worn. You can easily be displayed to be cool at any cocktail events or even dinners in spring and summer. The half/unlined version of white suits with great details like the peak lapel with those Neapolitan tailoring at the shoulder area would be perfect. Because of these details, your suit would not be much stiff or some suit work to a business matter, but instead, you would look decent and stylish in it. 
Now for wearing it over formal occasion, it would be better to go for that pale blue cotton shirt or some indigo or khaki shirt which would be contrasting. It is not necessary to wear a tie, but if needed, those knitted silk ties would be the best having them squared off base so that you like 'the Hamptons' instead of the Central Business District. 
How To Wear a Casual White Suit 
The white suit is considered to be the ultimate hybrid because as formal as it can be, you can make it look casual by the transitioning of those small tweaks in it. The linen suit in white which is paired with some navy crew neck tee is quite creative to be looking casual. You can even roll up your sleeves for showing off your personality. 
Now the Sans Collared suit shirt is quite formal, but you can town the formality down by having a linen shirt while looking pretty delightful. Those patterns on the shirts like the bold candy strips would be great to be experimented with. 
What Shoes To Wear With a White Suit 
 When wearing white, black is a complete no-no. You may be mostly wrong while wearing that footwear as you wear a white suit. There is a weight there which is not needed at all because the white suit portrays calmness in the vibe of the person who wears it. 
For this, you do not need to consider the occasion but the options available to you.  Those blush or white coloured sneakers work terrific because they maintain the decency of the attire throughout. You can even wear loafers having some lighter shades of browns or else, the suede espadrille could be the ones you can wear at times. But never go for socks while wearing a white suit. The cuffs of the trousers should be hitting on your ankle bone which would help in giving you a sharp look without making you look too casual as well. 
White Suit Materials & Shades 
When it is about a white suit, it is not made equal at all. The way it would be constructed along with the texture of the fabric would be the elements helping in making your statement in the room. You would need to keep in mind about a thing which is whether natural or synthetic fibres. You would not be able to find the synthetic fibres in darker shades and that could be seen and told right away. So you would want to go for those cotton, silks, and even light wool blends. They could be in creamy colour as well which is nothing to worry about because it has quality as well as craftsmanship in it. 
Apart from that, the tailoring element is which counts the most in it. You would want your suit fitting on your body parts perfectly because white is a flattering colour universally and you would want to look your best in it. The tailor should be able to create that V-shape torso to your suit. 
What Accessories To Wear With a White Suit 
The lesser you would wear on a white suit, the more it would be visible on it. The colour itself is quite bold so you could go for those pale coloured pocket squares which would go perfectly with the shirt you would be wearing. Like if you are going to wear a blue shirt, that cobalt and white paisley pattern would be the best to pair up with it. While doing that, keep about the fabrics in your mind as well. The silk and paper-thin linen always catch the eyes and become interesting on the white suit and do not steal the show from the whole suit itself. 
You do not need a belt while going for a white suit because just like the shoes, they can add in the unwanted weight as well. So you would want a tailor yo for this problem and tailor your trousers perfect to your fit. Although if you need a belt too badly, then try to complement it with the colour of your shoes and do not go for something thick and dark.