The Absolute Mens Tuxedo Guide
When you want to look complete, there's no better choice than a perfectly fitted Tuxedo. Make the impression at that black-tie event, an evening wedding, or prom that awaits you. Yes, with a Gentwith professionally tailored tuxedos, you're saying no to the traditional 3-piece men suit and opting for a dinner suit with a bow tie. And just when you choose to ORDER with us, we'll team up your tuxedo with a crisp white dinner shirt and the perfect pair of sharp cuff-links. Because we don't compromise with quality – a style that steals away the show.
While you choose to navigate the wide variety of tuxedo styles that can feel overwhelming, we will walk you through this comprehensive guide of tux ideas for men. Since there's a thoughtful way of approaching men's formal wear, and we believe the results are better. So, whether you're up for the latest trends, or you're a modern groom, we have you covered with this guide that will answer all your questions and for more – there's our blog about the pinnacle of men's clothing: tuxedos.
Gentwith Men's Tuxedo Style Guide
The basic of a tux is almost similar to a men suit. The major difference between a suit and tuxedo is in the use of silk satin on the lapels of a tux. Men suits are almost and always made out of the same fabric throughout on both jacket and pants. And most have buttons made out of silk fabric.
Now let's discuss what does not make a tux (Mostly). A tuxedo is not always a black suit with a bow tie. All are not black and white, they have colors too. And bow ties do make the traditional neckwear for a tux, but they're not the only choice.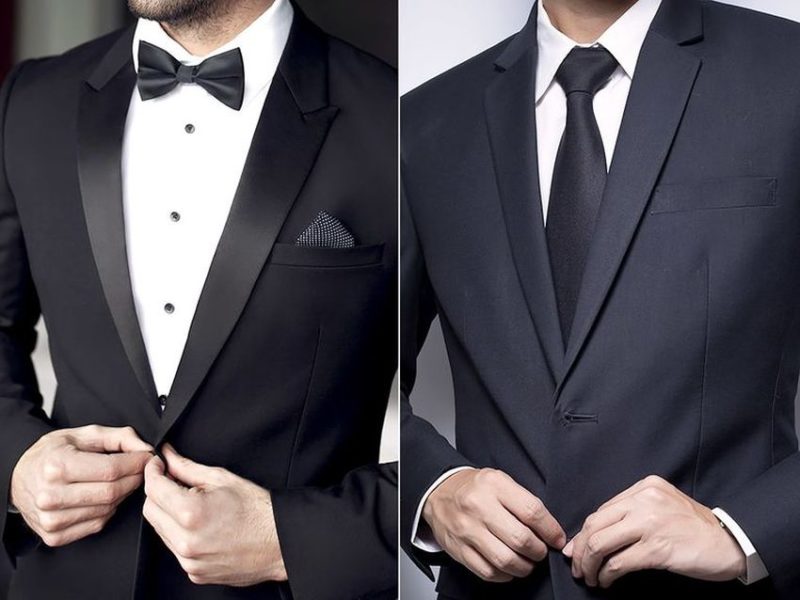 So, when do you wear a tuxedo? The men's tuxedos are designed to elevate the appearance above the routine men suit. If you're thinking of one, you're certainly celebrating something special. Let yourself browse the diverse collection we have online, and there's even a section of pre-defined tuxedos where you won't need to think much and just pick one matching your style and taste.
Three Main Elements of a Tux
The tuxedo jacket largely defines the tuxedo style. You might think the deal is simple, but there's a lot your need to consider, and here's exactly what's important:
Tuxedo Lapels styles

Tuxedo Buttons

Tuxedo Shirt styles
Tuxedo Lapel Styles
You will need to consider; notch lapels, shawl collars, and peak lapels.
Notch Lapels tend to be the standard of a men's suiting, from sport coats to the business formal look – they are found on all of them. They have a "notch" just where the jacket collar meets the lapel and for the same reason, the name stands. Despite the casual lapel type, they are still versatile.
Shawl Collars are not for the old aged men, instead of with a rounded shape they are primarily seen on tuxedos. You will find them appropriate for black-tie events. Let your style trigger do the decision making.
Peak Lapels are certainly wider than the notch lapels and have an edge facing upward. They started from the traditional garments and made their way to tuxedos. It's known to be more formal, less common, and hence a statement.
Tuxedo buttons
Remember: The fewer the buttons, the more formal is the look. Think of the very-formal tailcoats: the jacket does not even close at the closure. Most tuxedos are single-button jackets or dinner coats. Although two-button jackets are more versatile, they can be dressed up or dressed down. A single buttoned jacket is more of a tux.
Tuxedo Shirt Style
The men's tuxedo shirt is the main canvas for the tie to play its role. A shirt will be your style slayer when you put on a tuxedo and hit an event. It is the unsung hero of the formal look. Your passion for the right tuxedo shirt should be as intense as your desire to take the limelight on your wedding day in your very own men's wedding tuxedos.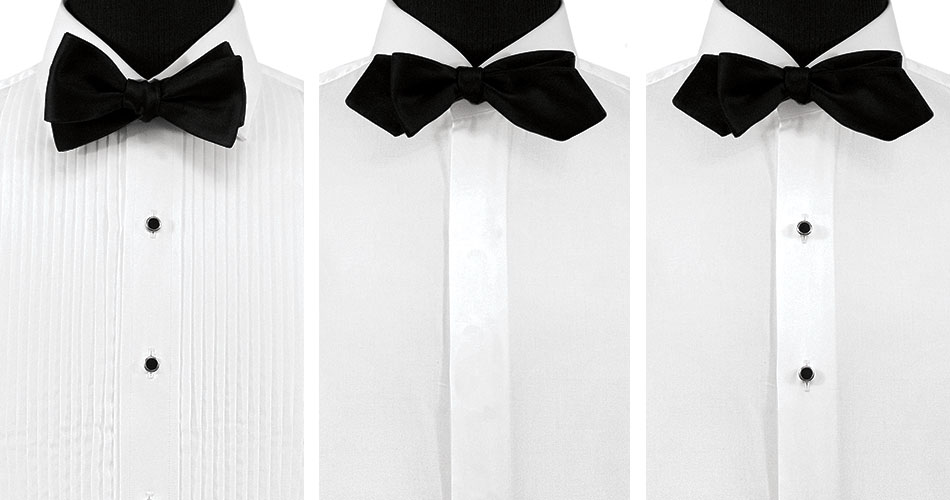 Tuxedo shirt styles depend on the collar type of that shirt. The very desiring known collar forms are:
Wing Tip Collars – The name is driven from the fold-out collar points that look like wings and give you the add-on capability of flying. This collar type is specifically designed for a bow tie and tuxedo. Remember to never pair wing collar with a suit or necktie.
Spread Collars – These are the most common and most versatile type of collars these days. You can pair them up with a tuxedo and a suit, and they come in a variety of angles and points; narrow spread and widespread.
"Bibs" are the rectangular panels at the front of the dress shirts. The bib comes as pleated and pique and makes the best choice for the best men's tuxedo look. Shirt essentials include Shirt Plackets (the center strip of the fabric where the shirt buttonholes are) as front packets, no placket, and covered placket, and the Cuffs (Barrel cuffs and French cuffs).
When to Wear a Tuxedo? (And the popular styles)
We all know that style is personal (or should be). The best outfit is the one that fits you correctly and suits your personality. Nevertheless, knowing when to wear a tuxedo depends on the event you're attending. Sometimes the nature of the occasion may demand you to show up in a more casual look, like a suit.
There are three kinds of tuxedos: Peak Lapel Tuxedo, Shawl Collar Tuxedo, and Notch Lapel Tuxedo.
Peak Lapel Tuxedo
When to Wear: Wear this tux to the most formal events, like a black-tie wedding event.
Pair it with: A pleated or wingtip shirt with French cuffs and a black bow tie. Choose patent leather shoes, button studs, and silk knot cufflinks.
Shawl Collar Tuxedo
When to Wear: Wear this tux to formal events.
Pair it with: A shirt with fold down collar style and French cuffs and a patterned/ black bow tie. Choose cap toe or patent leather shoes and metal cufflinks.
Notch Lapel Tuxedo
When to Wear: Wear this tux style to a black-tie less-formal event.
Pair it with: A shirt with fold down collar style and black satin necktie or a patterned bow tie. Choose loafers and stylish cufflinks.
How to Find Your Right Tux?
Whether you're about to rent a tux, or you're planning to buy a one, you will always need the perfect measurements. A tux is only going to look royal and translate your look completely when the measurements are accurate and it's the right fit. This is mainly why you need a professional to do your measurements.
Moreover, wearing a tux should be fun than a responsibility which is why suspenders, pocket squares, and cuff links were invented. While your tux speaks for itself and has the effortless sophistication and ace to it, the accessories will know how to do the break-dance for you. So, just how we have excellence in putting a variety of men's tuxedo out for you, we have the best accessories and men shoes to compliment your look.
Choose One by Gentwith
Gentwith takes honor in fulfilling your desire of providing an entire online man wear platform with insanely stylish yet comfortable clothes. We take pride in our commitment to bringing the best quality products with professional tailoring and manufacturing. There's more for you then suits and tuxedos, so if you're ready to find your fit and look amazing? So are we!
Get in touch with us, chat with us, or simply check our splendid collection of Men Tuxedos and place your order online.