Men's Cold Weather Essentials – 11 Winter Pieces Every Man Needs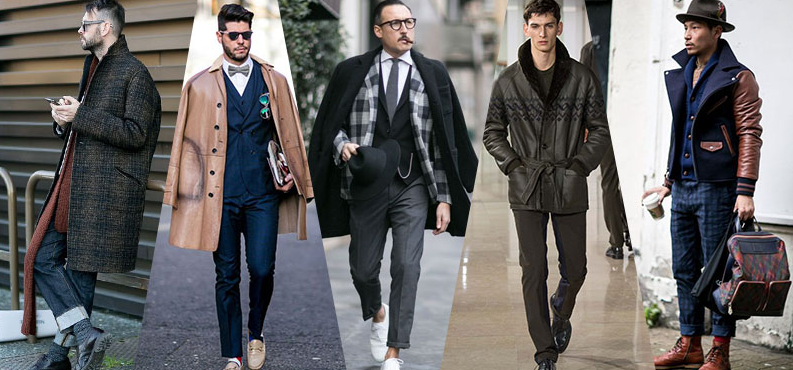 Winter is here and there is a lot when winter comes like those family get-togethers but your light sweaters and jackets cannot help in the extreme winter. So you need to know which essentials that are must for the wardrobe. 
Single-Breasted Knitted Blazer 
Those knitted blazers are great for the cooler weathers and the ones in the brown ones give a casual vibe as the shoulders are not padded and do not have a structured fabric to it. They can be like considered as a type of cardigan but these blazers can be easily dressed down. But to dress up, wear a dress shirt and trousers with them. To have that casual look to it, a t-shirt or the henley with jeans or chinos is better. This style is more versatile than the double-breasted one and it can be used as layering pieces in the outfit. 
Long-Sleeve Knitted Polo Shirt
The polo shirts can be worn in winters as well just like summers but it has ling sleeves to it and you can nail your look with it too. As not a lot of men are fond of wearing it, you could use to it your advantage and have the spotlight to yourself and be the man of the room. If the temperature is cool, then the long sleeves polo shirts work great and can be rolled up but not too up because the sleeves would be stretched permanently and you do not want that. The ribbed bottom style helps to get that slight fit to the body. You would want the fitted version because it would give you a great look and has a higher tendency of being versatile being worn under a blazer too. 
Men's Tote Bag
Most people think that it is a purse, which is not. It is even used for collecting groceries and considered to be socially conscious at the grocery stores. This bag has many uses to it for men like you can use it in place of your weekender bag, you can use it for a single day trip and yes, it can be used for collecting the items at the grocery store while preserving the climate around us. Just get yours in the darker shades made of leather. 
Silver Tue Clip 
That clip on your tie makes adds in texture to your outfit. They go great for the cooler weathers because their purpose is to keep the tie in one place. You may want to go for the rectangular-shaped style ones in the start because they are basic and pretty much understated which can be used greatly. After this, it is okay to experiment with other styles which can be bold as well. Matching it with your tie is also essential and make sure it is the right side of your tie and not larger than it. Your tie clip is supposed to be in the middle of the sternum right between the third and fourth button of the dress shirt to attain that perfect look for your outfit on you.  The direction of it is supposed to be from right to left so that it could take a hold on the tie and the shirt placket together. 
ALSO READ: How to Decide the Number of Groomsmen You Should Invite?
Men's Dopp Kit 
It is best to get yourself a Dopp kit of best quality for the holidays and family events. It has come a great way since 1926 and it looked pretty much utilitarian and unstylish in the start but now there are so many designs to it but the best is to get one in leather in a larger size having 2 zipped compartments to it. You can keep all of your grooming products in it while going off to somewhere or even can be used as an emergency kit for your car. Just seal the products that you would place in it. 
Men's Blue Denim Shirt 
You would see these mostly during winter because these are thicker as of the construction of it and it helps to keep the person warmer than the cotton shirts. You can wear it for casual and also business casual purpose but the shade needs to be darker as it appears to be more formal and can go with anything easily, make sure it is not the bedazzled version if it because it looks like you are a rhinestone cowboy. The contrast does not go well with the jeans much because it seems like you are wearing a denim jumpsuit. Instead, go for the khakis or chinos which would make you look amazing for sure. 
Men's Chino Trousers 
When it comes to cooler temperatures, chinos are a great option as they have a variety of colours in them and keep you warm. The slim fit chinos are great but not with the bootcut, that too in the fall season. Get yourself neutral colours as they go with everything and you can dress accordingly. 
Navy Turtleneck Sweater 
This one is always best for the cooler months and these were worn in the Navy as it helped the sailors out on the sea. It is considered to be stylish and comfortable if gotten in the merino wool and cashmere material. Go for the lighter colours along with less chunky version because you appear more formal by it. It can be worn with many things like blazers, jacket etc. 
Knitted Tie
These became famous in the 1940s when the ties were worn above the belt-like and by those great actors including Cary Grant and Fred Astaire. So having it in the wardrobe could be pretty useful sometimes. These had square bottoms to them back in the day but now they can be seen having pointed ends too but we suggest you go for the high-quality ones. 
Long-Sleeve Paisley Poplin Shirt 
Not many men are ready to take a risk when it comes to trying out nee things in their outfits and the paisley shirt is one of them. By adding it in your wardrobe, you are nearly freshening up your look when you wear it whereas you can easily pull it off if it has a subtle pattern to it. You just need to gather your confidence and wear it. It can be worn under a blazer or even as a casual shirt. Just never be afraid of experimenting.