The 5 Best White Jeans for Men to Live in This Summer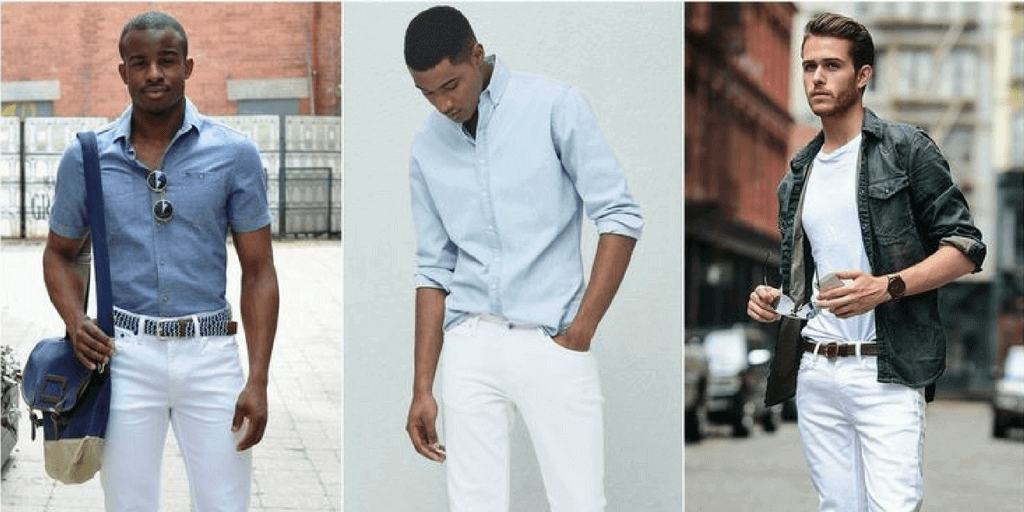 Nothing marks the summer season like breaking out the crisp whites.
White Jeans for men are a must-have for summer. Summer generally begins with two camps. The first is the official date, June 21st, that declares the start of the season. The second is the Memorial Day weekend. We propose a third option. Summer for us starts the moment you start pairing your white denim with the lighter hues.
We have traded your dark denim with "how to wear white jeans" blog already. What to wear with white jeans is also being compiled. For now, we have done some research and combined an article with the 5 best white jeans for men.
Let's get this started…
White Jeans for Men – The Hue You Need to Adore
Let us break this entire process into some segments to first clear our concept;
How To Wear White Jeans
You don't need to think much here, because we have already detailed the information in our blog. For a simple briefer, white jeans are the casual go-to-look. Pair this pair of jeans with different colors and prints. For a sophisticated take, choose neutral shades. A navy blue polo shirt, your white jeans, and loafers are the best description of perfection.
How to Keep Your White Denim Looking Neat and Fresh
The cooler the items for men's summer wardrobe are the tougher it is to keep them stain-free. We have gathered a few tips and tricks for you to keep your white denim at least bright and stain-free. Find them below:
We suggest you wash your white jeans after every wear. It won't fade out like other blue types of denim. Put them in the washer on a warm or hot cycle with other whites.
Avoid using bleach for this piece of garment. Bleach generally leaves a yellowish tinge on the white clothes and we don't want that on the denim.
Treat any to all stains immediately. The best way to keep your white jeans fresh is to treat the stains immediately. Dab the stain with a damp cloth or paper towel and later apply a clear concentrated dish soap for grass or coffee stains. The purpose is to agitate the fabric.
You can even toss your white jeans into a bath of four quarters of warm water mixed with one cup of baking soda. Let it sit in this mixture for several hours and then wash as usual.
These tips will help you keep your denim clean and fresh. Let us now explore the best options of men's white denim from some good brands.
5 Best White Jeans For Men to Wear This Summer
Paige Transcend Lennox Slim Fit Jeans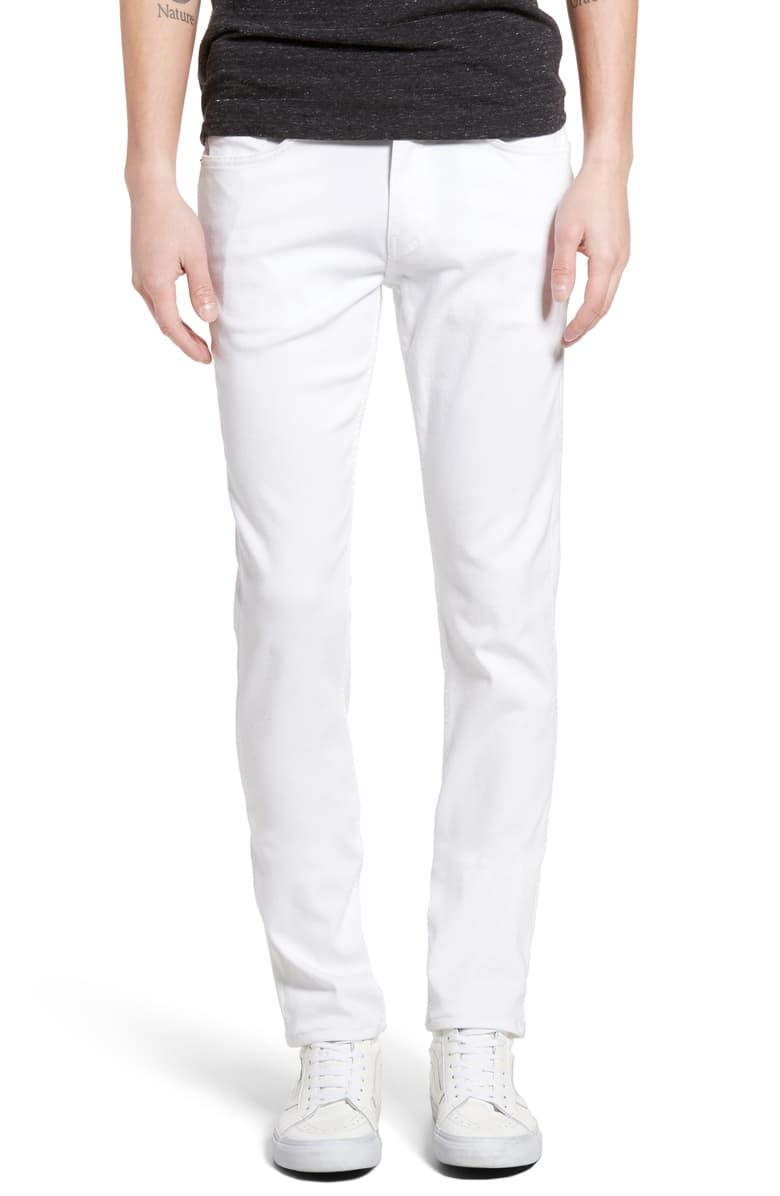 NORDSTROM.COM
$179.00
This cotton and rayon blend denim will be the softest pair of jeans to own. They are crafted with the best quality of fabric to retain the shape. The slim fit cut is perfect to keep you looking chic without being too tight. You will love this pair and will want to wear it over and over again.
Men's Athlete Relaxed Tapered-Fit Stretch Jeans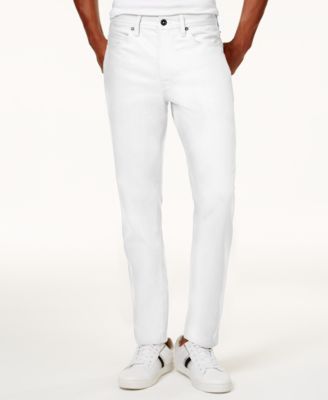 Sean John
MACYS.COM
$89.00
Sale $66.75
This cotton and lycra mix pair of denim has a hint of stretch that provides comfort with an absolute fit. It has a zip fly with buttons closure and classic five-pocket styling. You will enjoy wearing these jeans from Sean John and will love the discount offered. There's even an EXTRA 20% off to order from the online store.
AE Air Flex+ Slim Jean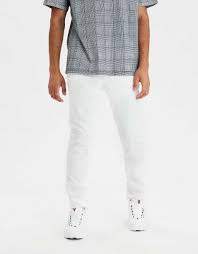 AE.COM
$49.95
AE Air flex slim jeans are authentic denim made with lightweight flexible fabric to give you comfort. These are the balanced fit which feels good. Slim through the thigh, knee, and leg opening. These jeans are made with a mix of cotton, polyester, and lycra. You need to feel them believe.
Slim Jeans with GapFlex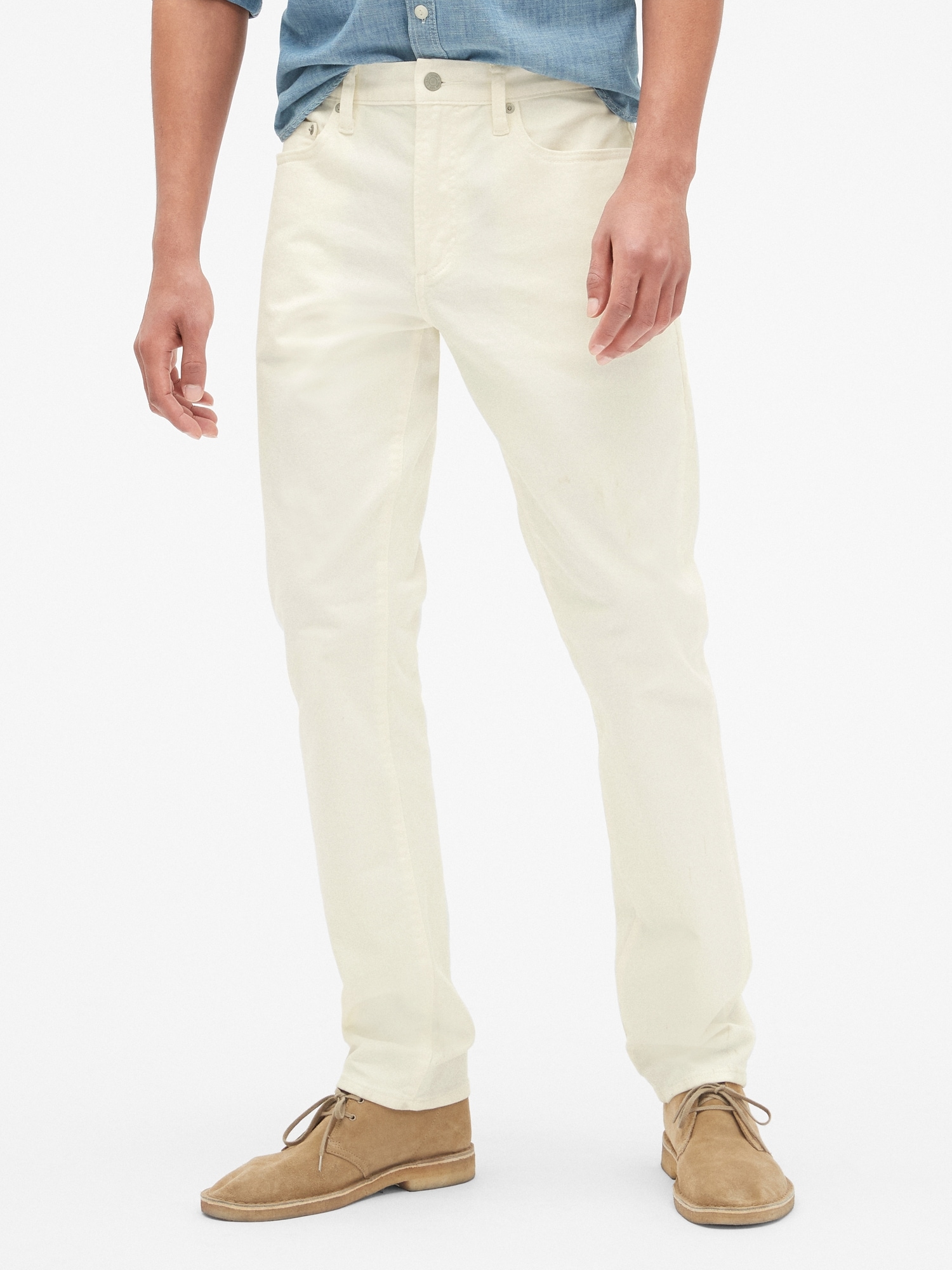 GAP.COM
$37.99
"This jean fits great and doesn't bag out! Thanks, Gap." —John, TX. Get your hands on this pair of jeans and say the same to Gap. These are the best selling jeans. Versatile enough to wear them during the day and at night as well. Gapflex jeans are lean but never tight. GapFlex stretch technology is the reason behind the extra flexibility and total comfort.
Oakland White Slim Fit Handmade Jeans
GENTWITH.COM
$129.00
With 98% cotton and 2% polyester, this handmade white jeans by Gentwith is a perfect wear for this season. It has classic five pockets and is cut slim through the hip, thigh, and leg. These jeans are made to last and are perfect so you can be yourself. And we've been at it for almost 50 years.
Gentwith Style Tips
First and foremost, to look great in white jeans for men, you need to pick a perfect pair. To know that pair is the right style and quality, we have limited your search and created this list. Now the question is: how to wear white jeans? The first answer is in our blog and some briefer is below;
Your answers are:
White denim is best paired with a classic and minimal color palette.
You can wear a black jacket on top and rock the entire look at any time.
Wear white jeans with a t-shirt and a blue denim jacket on top for a perfect summer look.
You can wear an entire outfit in white to make a bold statement.
Wear a shirt with white denim for a smart casual look, and a blazer on top for a semi-formal style.
Your shoes can be from boots, loafers, derby shoes to sneakers.
Get back to us and tell us about your style choice!