A Style Guide of Modern Men's Smart Casual Outfits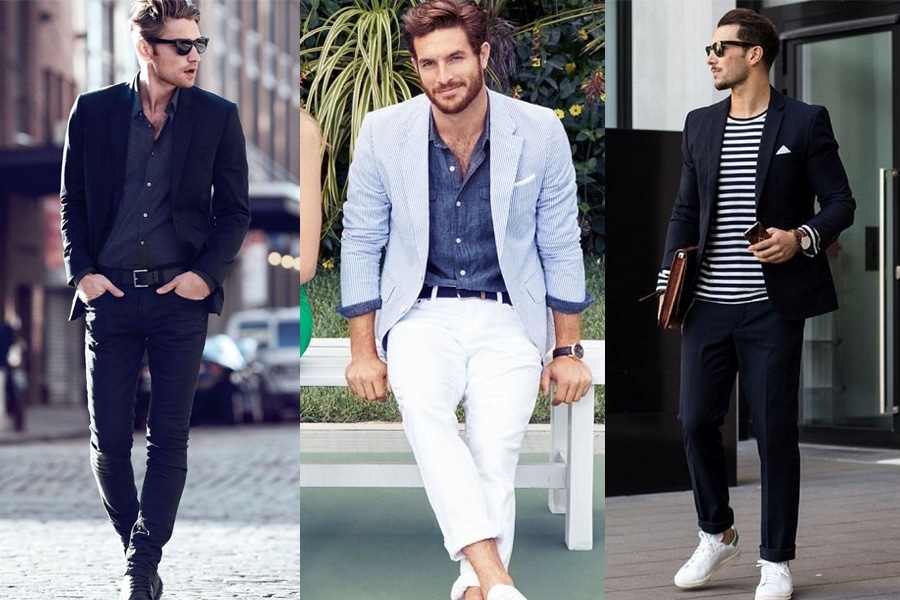 A Gentleman's perfectly balanced look.
There's nothing that can put fear in a man's mind more than reading a "smart casual" nebulous phrase on an invitation card. As per the Oxford Dictionary, this term is defined as "neat, conventional, yet relatively informal in style, especially as worn to conform to a particular dress code". These days it's common for men's smart casual outfits to be considered as a dress code.
George Orwell believes the ability to hold two contradictory thoughts in one's mind at the same time – to be smart and to be casual simultaneously does not sit comfortably. But this is why style guides are made to understand what is smart casual for men?
We get you how it sounds, so let's just get to the point.
Men's Smart Casual Outfits – A Modern Version of the Old You
How you should dress up, but not too much, and be comfortable, but not entirely. This simply has a breakdown into two: formal smart casual and informal smart casual.
Formal & Informal Smart Casual
If you take a look back into history, people always dressed differently when they were in the town or the country. This gave the origin to transfusion of smart casual into "formal" and "informal" smart casual.
The first kind requires wearing well-fitted pants or trousers, a good quality blazer or jacket, a shirt with a collar and buttons, and shoes other than sneakers.
The second kind requires jeans, dark but not distressed, a polo shirt rather than the traditional shirt, and shoes that look decent. You can take an example for the informal smart casual; visiting your mother in law but not attending a wedding.
The Modern Smart Casual Men's Wear
The casual wear for men is the new dynamic to men's smart casual clothing. If you want to know more about casual wear then read our Style Guide of Casual Outfits for Men. The trends have changed and so has the way we look at men's fashion wear. You can look smart-casual by wearing a collar or unlined collar shirt, paired with an unstructured or structured blazer. You can add a tie but that's not because it is a must wear one, but because one wants to.
The Essential Pieces for a Smart Casual Look
The following pieces are the key elements for modern smart casual wear.
Oxford Button-Down Shirt
This piece is the magic element for men's smart casual outfits. Oxford shirt is clean and sharp, yet comfortable and relaxed. It's the staple element that hugs perfectly for informal and informal appearance. This sartorial balance between the two looks makes Oxford shirt a powerful and versatile garment.
You will find an Oxford shirt in different textures as well. A thick subtly texture allows you to dress down more formal pieces, like a dress pant or tailored jacket. While a clean-lined feel can lend a sense to casual look.
Unstructured Blazer Jacket
Just how an out-and-out tailored jacket is considered formal, in the same way an unstructured blazer is considered informal. The soft lines and relaxed drapes make it a perfect fit for smart casual men.
The relaxed style of an unstructured blazer forms a cohesion between the top and a pair of chinos or slim fit jeans at the bottom.
Well Fitted Chinos
Avoid jeans when you want to look a little smarter. Choose a pair of slim-fit chinos in such a case. The chinos are smarter than denim and more relaxed than dress pants. This makes this pant the best choice that can be dressed up or down.
You have the choice of different colors in Chinos, more common is Khaki but navy and gray are also good options.
Drawstring Trousers
A drawstring trouser was considered casual when you wear it outside of the gym or your sofa lounge. Today this is not the case and things are a little different in men's fashion wear. This new leg-wear has fused class and comfort into this something that looks and feels like a jogging bottom.
The other name for drawstring trousers is sweatpants. They have other names as well but call whatever you want you like. These are the modern men's smart casual outfits staple.
The Minimalist White Sneakers
We have talked about these in plenty of our articles, and here we're again focusing on them. This is simply because the sportswear shoes have become an essential piece of the men's smart casual wear.
These high-end white sneakers by Gentwith are made for the same purpose. You can use these shoes for a smart casual look. And can also go to any occasion where you're required to look stylish.
Brown Derby Shoes
Derby shoes in leather or suede fill the gap between smart and casual for men. You can wear them and feel dressed enough or put on the pair of denim and feel casually smart.
The Derby shoes complete the smart casual look. Simple, effective, versatile, and absolutely timeless.
Smart Casual Men's Outfit for Summer
You have to keep your arms covered when you think of a smart casual outfit. However, with the blazing sun outside you cannot think of layering yourself with blazers and crew-neck knitwear. At this time use a polo shirt with nicely fitted pants, a leather belt, and some leather loafers.
Gentwith features lightweight pique cotton fabric, short sleeves, and a collared neck Polo to make your summer classical. Also, know how to wear a polo first.
5 Gentwith Key Rules for Men's Smart Casual Outfits
Denim is still a class for most people, even then don't wear it.
Your outfit stitching still means well dressed or not well dressed. Wear a blazer jacket to add the shine.
Wear dark shades to avoid confusion.
Always wear the best version of the garment you have according to the season. Think of linen and cotton in summer.
Anything you choose to wear, make sure your garment pieces are in the best condition. Tuck your polo or shirt in, button it up, and stay clean and polished.
By now we hope that you have read at least one of the 5 Styles Series? If not, go ahead and read and then comment to tell us that you have. It will mean a lot!