How to Wear White T-Shirt for Men
From Summers to Winters, there's nothing better than a White T-Shirt!
The humble white T-shirt for men can go a long way. You can add this to your personal style despite the season and time of the year. Mix and match with this staple piece and complement the casual to a formal event.
Ripped jeans maybe your style statement, or a double-breasted suit. For all the reasons and seasons, here is our style guide to rock the white t-shirt looks.
White T-Shirt for Men – The Best Stylish Ways
We'll talk about the summer look first:
White T-Shirt Tucked into Regular Jeans
Tuck in your t-shirt into jeans and display a polished look. This classic combination looks best with a lightweight blazer, leather jacket, or a bold buckle belt. Anything you choose to wear, just keep your confidence high.
With a White Jeans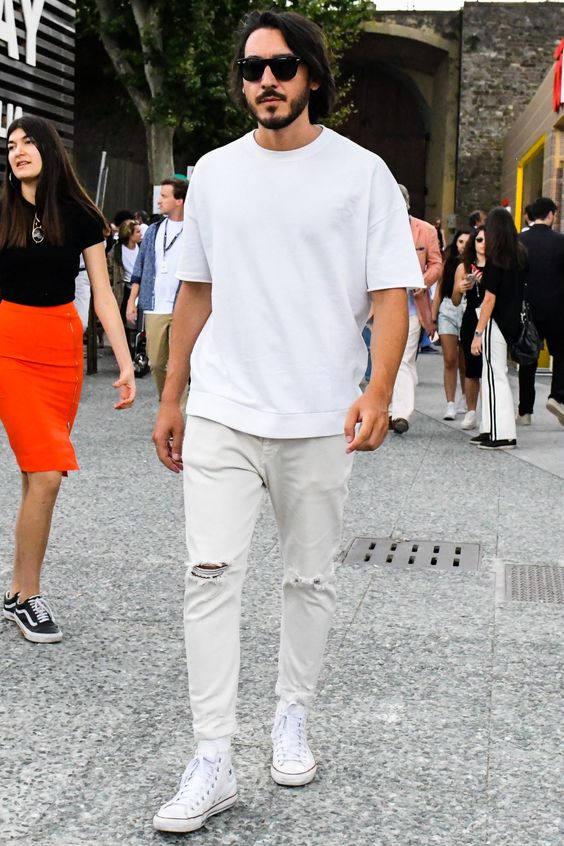 Yes, summer calls for all whites. Create a stylish outfit look with white jeans and a white t-shirt. This is the easiest fashion wear outfit and it looks pleasant on all ages. Pair the look with loafers, boat shoes, or accessories that suit your summer look. No matter how you choose to wear this, you'll be the freshest guy in the room.
With Cropped Men Jeans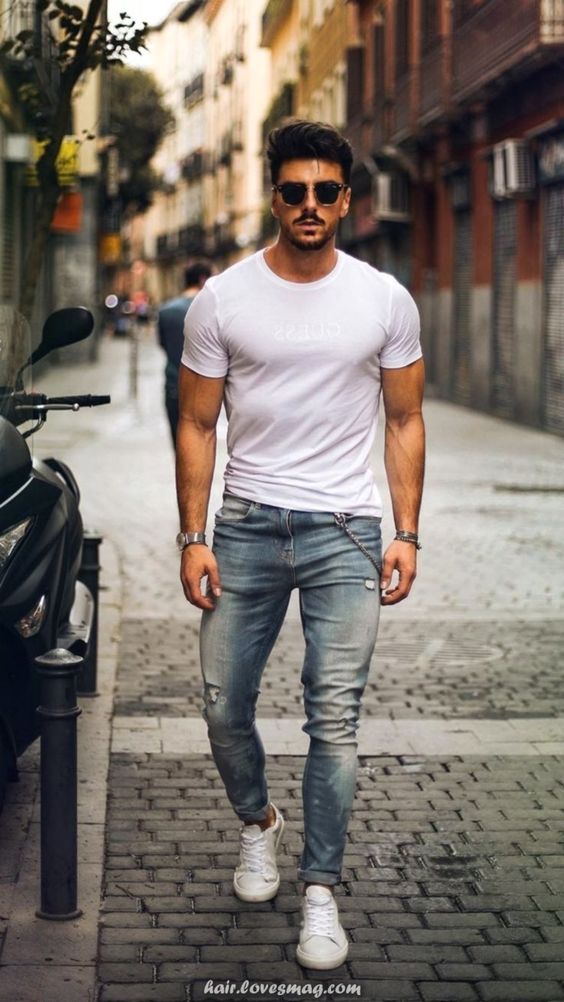 The fashion styles are not just for women to follow. This year try following men's fashion trends 2020 and show off your ankles in cropped jeans. Pair this with a white t-shirt and look subtle. You can use white sneakers, loafers, or boast shoes to complete the outfit. A blazer or a leather jacket is also an option for cold days.
With Cargo Pants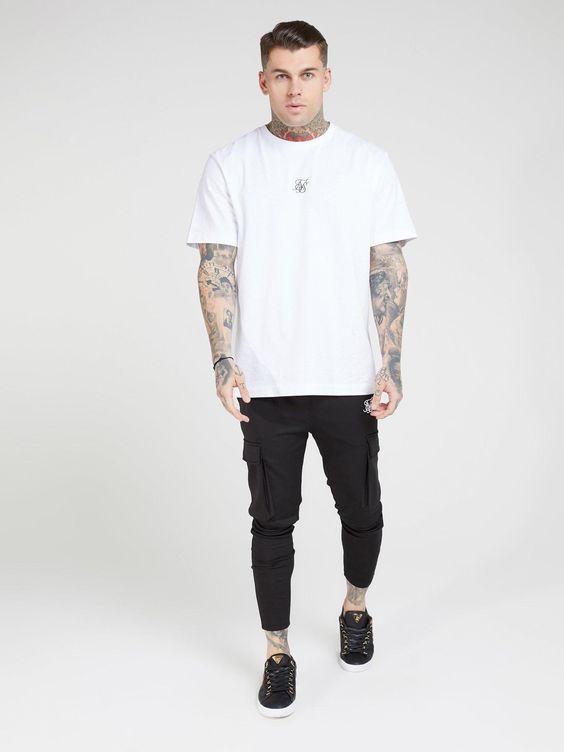 Cargo pants with a white t-shirt are an easy outfit choice for men. It looks fantastic on anyone. Choose the classic shade, neon, or dark colors and you will easily create a simple yet stylish look.
With Baggy Jeans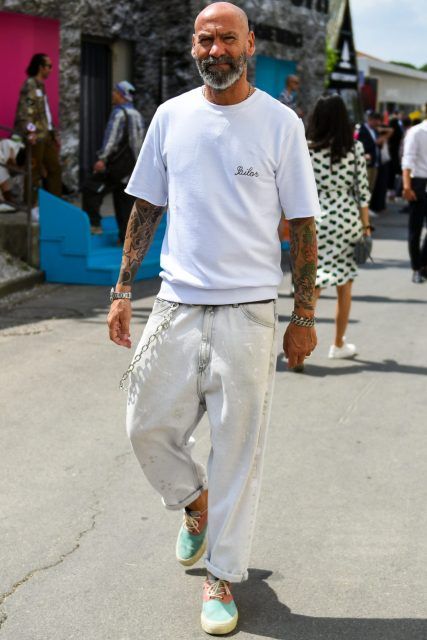 Baggy jeans are not just in-trend for women but for men as well. You will look clean, casual, and fresh with this combination. Wear this outfit regularly and just change the look by rolling up the bottom or letting them hang loose. Pair either look of these jeans with a blazer or an oversized shirt and you'll be ready for any event.
With Black Denim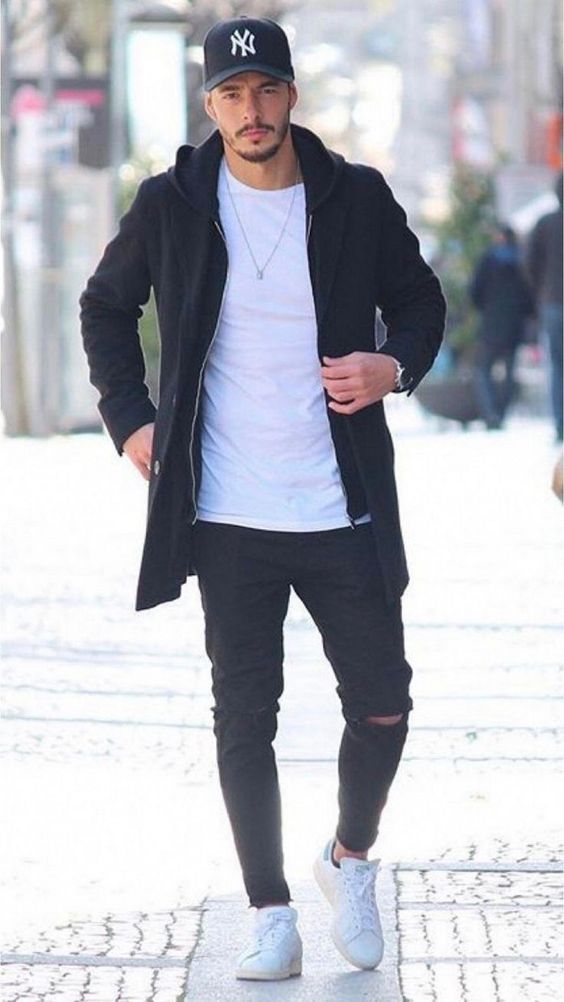 You can switch your day to night look with just changing the pair of jeans. Wear black jeans and a white t-shirt to look flattering. Go for skinny black denim or cropped ones, and watch as the compliments fly in.
With Black Trousers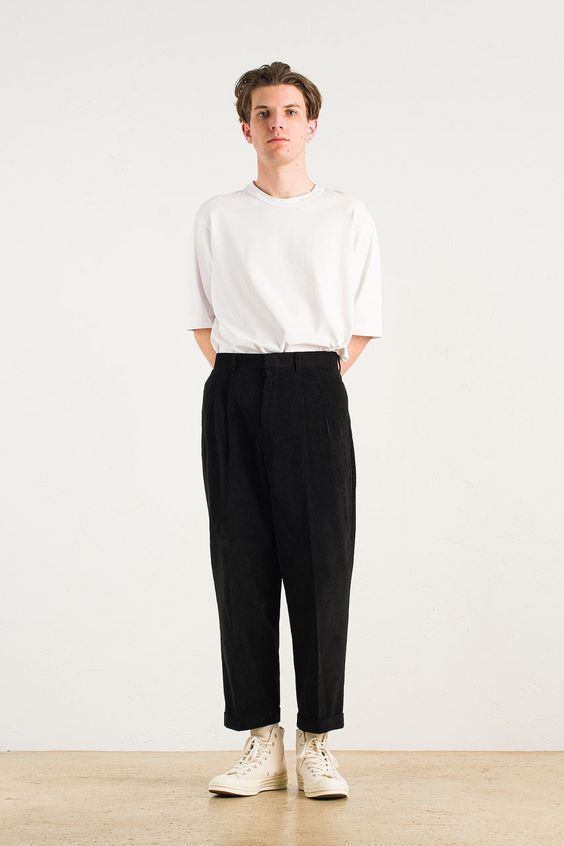 The year 2020 has made men's trousers a must-have garment piece for the wardrobe. The place where jeans aren't going to work, pair a plain white t-shirt with some black trousers. This look can be casual with string pants or it can be smart-casual with classic suit pants. You will not go wrong with this stylish ensemble.
With High Waist Trousers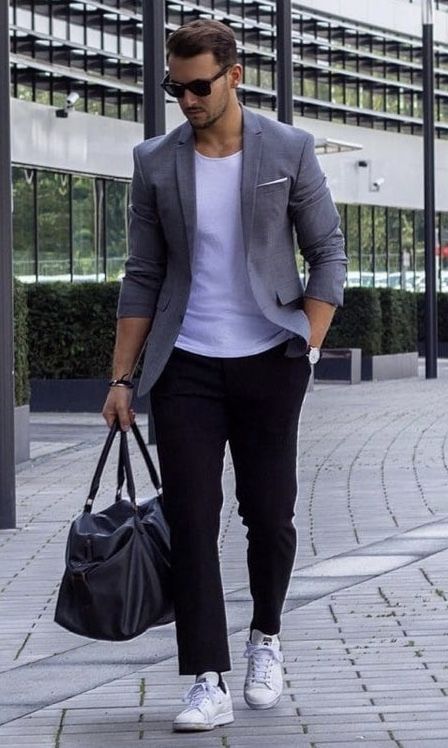 This is, the high waist trousers are truly in for men of 2020. Your legs will long and you will look trendy with high waist trousers. Tune in your business casual look with a white t-shirt and a blazer on top.
White T-Shirt and Vest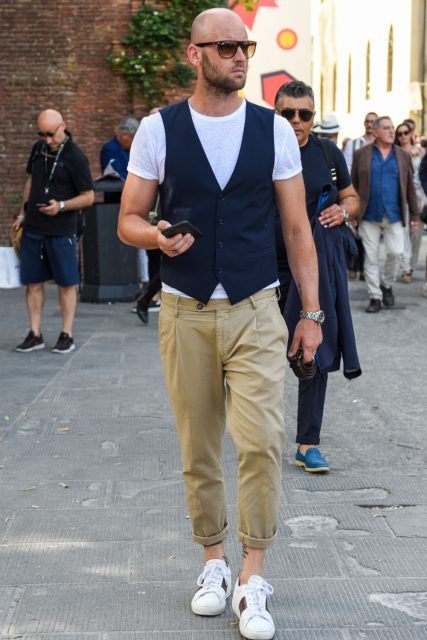 Let your inner rock star shine out with a white T-shirt and a vest. Whether you choose the denim vest, something colorful, or dark, you will freshen up the outfit. This complete look takes minimal effort but the end results are great. Do pay close attention to the material of the vest.
Let's now talk about a white T-shirt and some layers on top. These styles are good for colder places and days. But not all of these looks are purposed for chilled days, instead, there are men's summer suits that can also be used with a white T-Shirt to complete the outfit.
With a Denim Jacket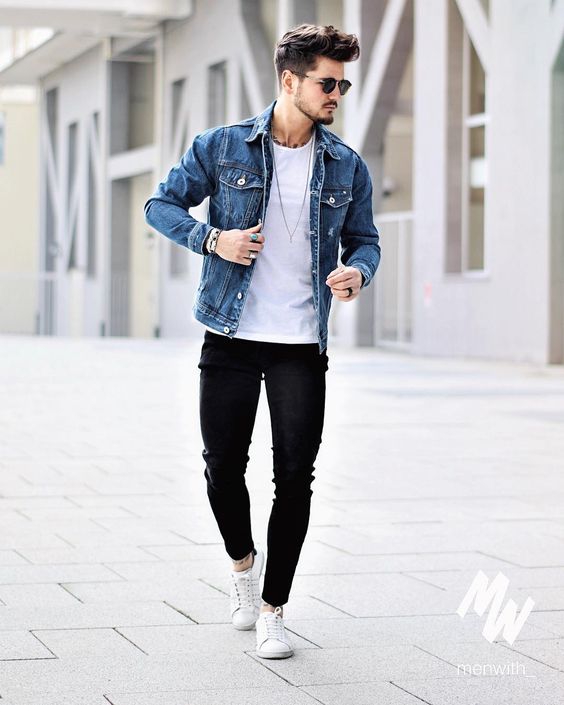 This smart piece of men's wear is the most ideal garment for everyone. You can call the denim jacket timeless and classic. Opt for a printed white t-shirt, denim jacket, shorts, and sneakers or loafers for a laid back look. If you want to look smart then wear navy chinos with a plain white T-Shirt.
Printed White T-Shirt and Overcoat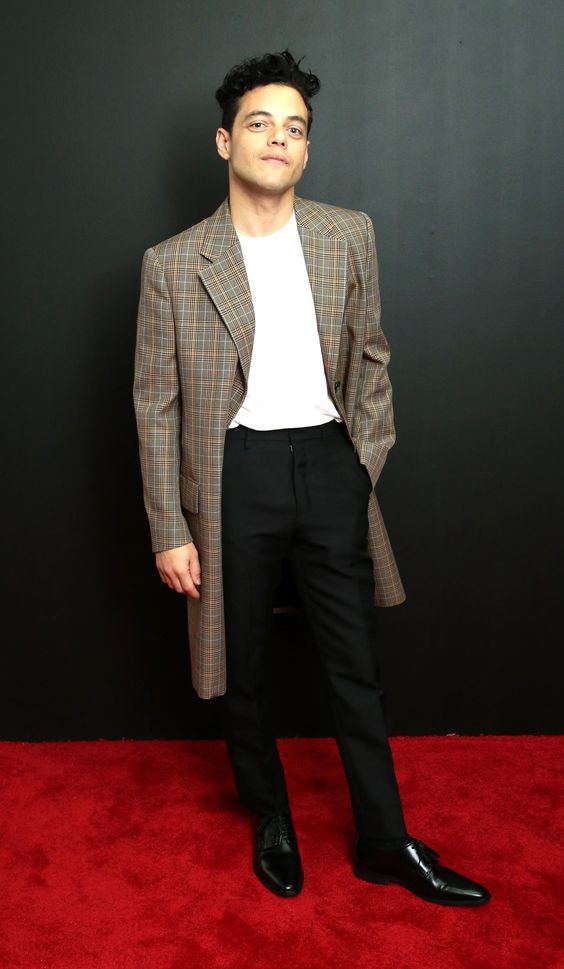 An overcoat with a classic t-shirt is complimentary. The outfit is perfect for the in-between seasons, but it is timeless at the same time. Pair the top look with jeans or trousers and you're set. And the color of the outer layer will not matter, you'll look stylish by all means.
With a Doubles-Breasted Suit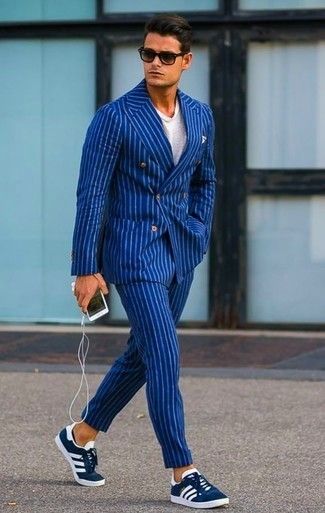 Combine a formal design with a laid-back edge in a double-breasted suit and white T-shirt. This minimalist attire is great for smart casual and business casual events. Wear stone or cream color on hot days and the winters can be on your own choice. It is the easiest way to dress up or down and still look smart.
With a White Blazer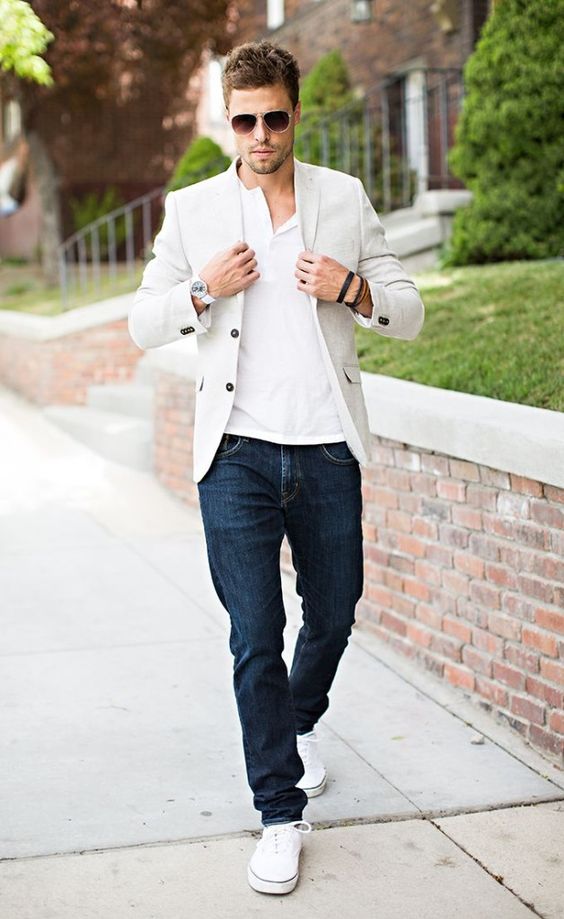 Your inner nautical style can be unleashed with a white T-Shirt and a matching blazer. The clean and crisp finish will brighten up the room you enter. Pair this ensemble with blue denim and white sneakers, or wear shorts and boat shoes and look fantastic.
White T-Shirt and Suit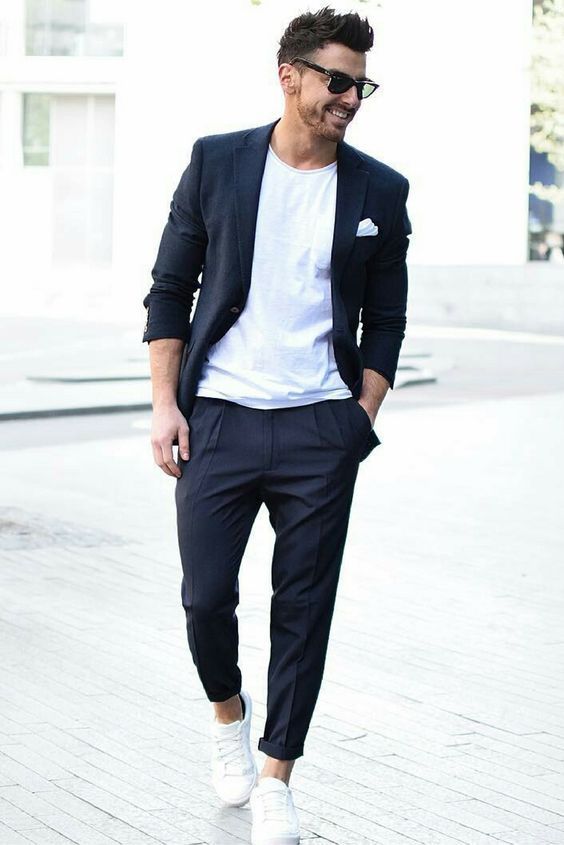 When you want to head out to the office but want to avoid a collared shirt, opt for a white tee instead. This outfit looks fantastic in no time. Unbutton your blazer and wear some good shoes to look seriously cool and smart.
With Layering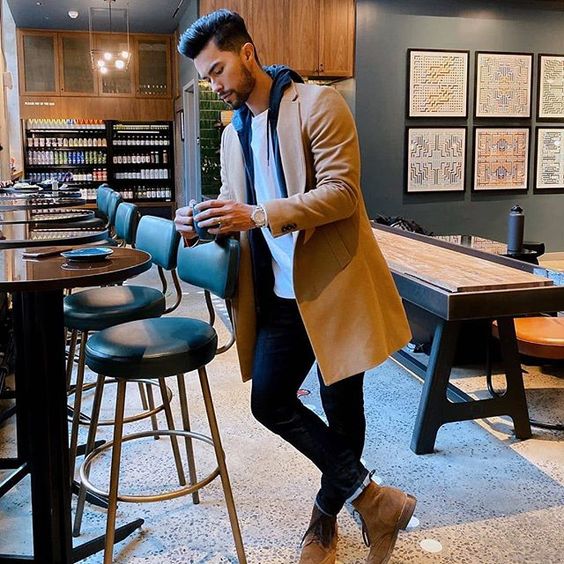 Experiment with your style by adding some layering into the mix. You can't go wrong with a white T-shirt, so why not mix things up a bit. A patterned shirt with jeans and leather jacket creates a retro feel to any outfit. Whatever you choose, let your creativity shine through!
With Overalls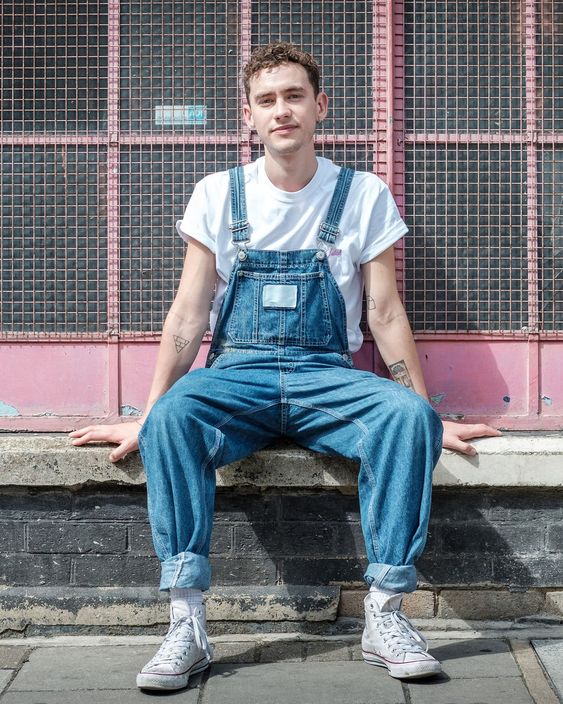 The overalls are not just the choice of painters, but they look great for casual clothing. Pair the plain white T-Shirt with an overall and some cool glasses to look your absolute. Wear a loose overall and let the wind pass through you.
With a Scarf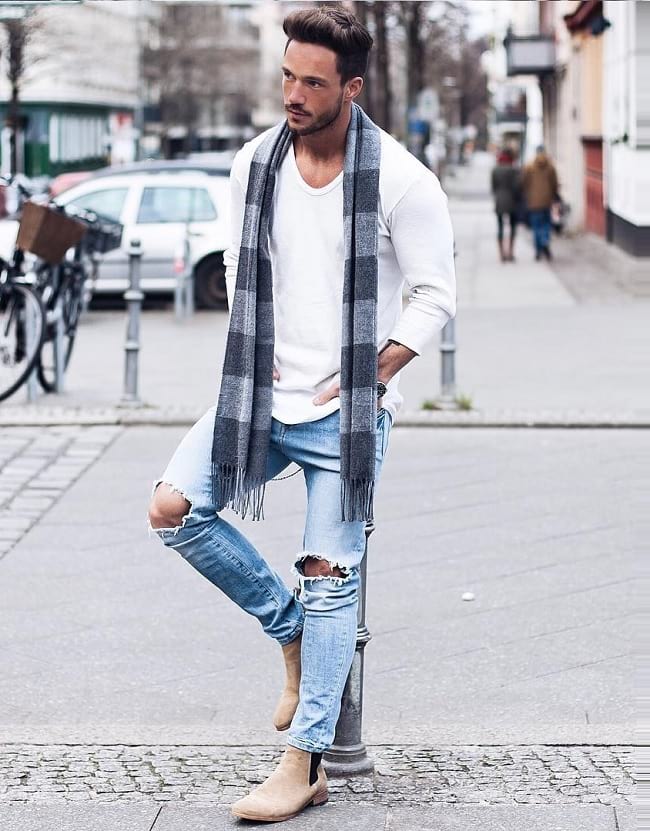 Wear a t-shirt and a scarf when the winds start blowing. You can always rock this look with one color or the other. Use this accessory as a way to spice up or complete an outfit.
With Stripes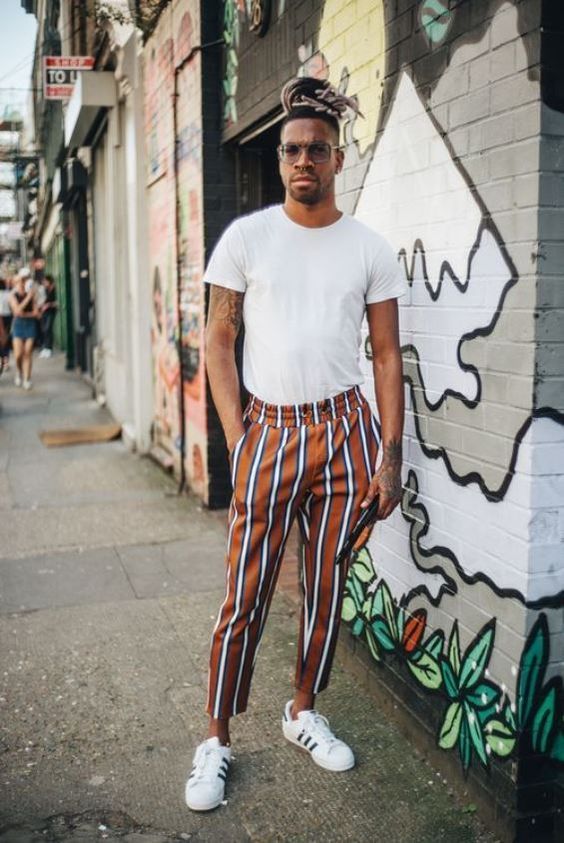 Attract attention everywhere you go in a set of stripes. From a pinstriped suit to Beetle juice-esque lines, there are many ways you can style it with a white T-shirt. Choose from a number of shades for different feels; blue is for nautical aesthetic, and cream lines look perfect at a summer house party.
Gentwith Tips on Wearing a White T-Shirt
Don't be scared to experiment. A white T-Shirt for men gives the perfect canvas to paint anything.
Use bold patterns in the layers to make your outfit pop.
Look fresh by pairing a white T-Shirt with other pale shades.
A classic crew neck should be your go-to-basic t-shirt.
Do comment and let us know your thoughts. We need you to keep our spirits high!