The Ultimate Mens Dress Shoe Guide

The Anatomy and Mens Dress Shoe Styles to Support your Look
It's necessary to have a perfect pair of shoes. You will always need to suit-up despite your routine style. They say "opportunity favors the prepared" – our mens dress shoe guide will do the same.
Today we want you to walk through this mens dress shoe styles guide and make a wise purchase decision. The available options will help you prepare for your best look. Let's see where we're headed…
Mens Dress Shoe Guide – Deconstruction
It's always important to know the basics. Let us talk about the shoe components before the types of men's dress shoes. Mens dress shoe has four parts: toe, vamp, facing, and quarter. The dress shoe style depends on the placement and construction of these parts.
Let us talk about the first part: toe of dress shoe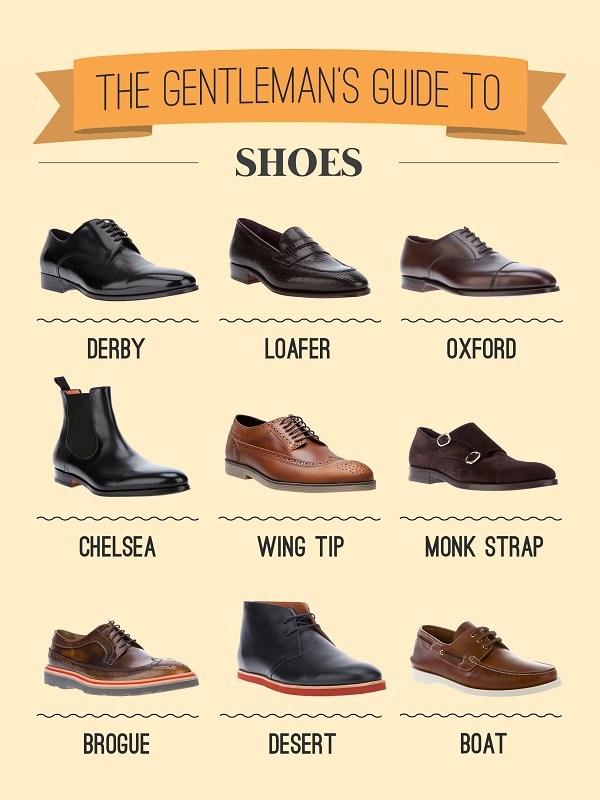 Men's Dress Shoe Toe Styles
If you're investing in the dress shoe for one time, make sure you take note of details. Do not overlook the toes of your shoes. You can always find occasions for pointy or squared toes, but dress shoe toe has to be round (Only).
Plain Toe – This is the simplest form with a bare vamp, giving a clean look.
Cap Toe – These have horizontal stitching across the vamp. This caps the toe and in some cases, there's a separate piece stitched over the camp. Generally, a single decorative stitch is all that caps the dress shoe.
Apron Toe – This toe style fits into the mens casual dress shoe type. It has a seem that starts from the middle of the toe and goes around the shoe, to the mid of the heel. The simple name is split toe.
Medallion – This is the plain toe style with a few brogues on top.
Wingtip – A winged cap is on the center of this toe style. This toe style consists of brogue on the center of the toe and towards the seam of the cap.
Brogue Types on Men's Dress Shoe
The dress shoe sometimes has decorative perforations of various patterns and different areas known as a brogue. The tiny holes were originally to let water out of the shoes. It later became a part of decorations for mens casual dress shoes.
The shoe type to have brogue is Oxford, Derby, and Monk Strap. It's of fur types: full brogue, longwing brogue, semi-brogue, and quarter brogue.
Full Brogue – The cap is the winged shape and extends around the outside of toe.
Semi Brogue – The brogue starts from along the seam of the cap and is also present in the center of the cap toe.
Quarter Brogue – This is the most reserved style for brogue. The decorative brogue featured in this style is only along the seam of the cap toe.
Longwing Brogue – Men's Derby shoes are to consist of the longwing brogue feature. The brogue starts along the side of the shoe and extends all the way to the center seam in the back.
Types of Men's Dress Shoes
The signature pair of mens dress shoes is an essential possession for a man to have. Your choice of mens dress shoe style is dependent on your personal style and the clothes you typically wear. You can make your purchase decision with the help of our mens dress shoe guide and can browse Gentwith's online men apparel collection.
Here are our details on formal shoes for men:
Oxford Shoes
This is your start to the timeless elegance. You can use a pair of Oxford shoes for dressing up or down to casual and formal events.
Signature Elements
The most recognizable factor of an Oxford shoe is the "closed lacing" feature. With the shoes facing placed beneath the vamp, it gives a slim silhouette.
How to Wear Your Oxford
The popularity of this mens dress shoe is because of its ability to go with any outfit.
You can choose this pair for everyday wear. It features a variety of colors from blue to brown and green to dark red color. You can even choose between leather and suede texture and give yourself bonus style points.
Your business suit look will look pleasant with a dark brown, black, English tan, or cordovan pair. Choose a dark pair of socks to complete the look.
If you choose a tuxedo with Oxford for formal wear, black patent leather should be the best choice.
The classic Oxford also has a variant as one-piece Oxford. It consists of a single leather piece with a single seem. This is the new class of sophistication and a sleek look.
The Derby Shoes
Derby dress shoes for men are for a casual appearance.
Signature Elements
The Derby shoes are often considered as Oxfords. The similarities are more and differences are subtle. The significant difference between the two is: Derby features "open-lacing" and is for a wider fit. Oxford is for sleek fit and features "closed-lacing".
How to Wear Your Derby
You can use Derby shoe in the same way you would pair Oxford. But since Derby's are more for casual wear you cannot pair them for a formal event.
Wear these mens casual dress shoes with a pair of rolled slim fit jeans and some stylish socks to complete your cool yet smart look.
The Monk Strap Shoes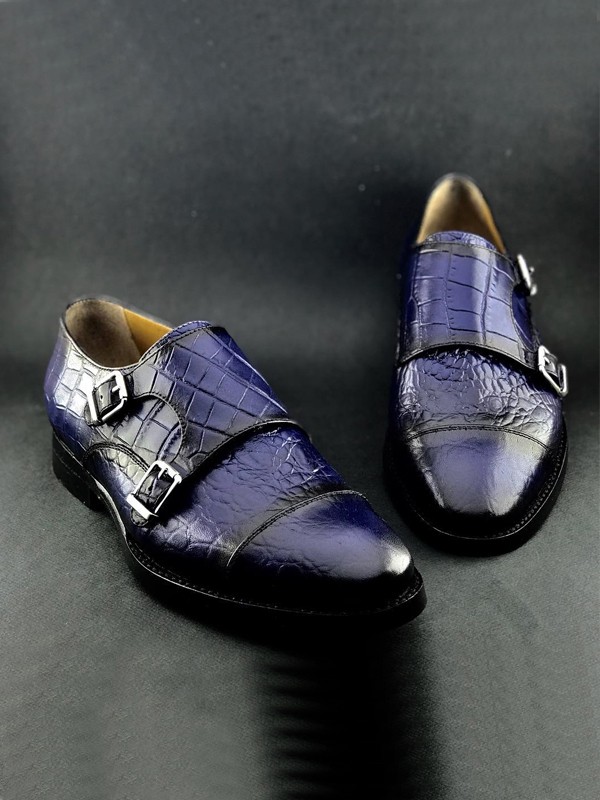 This is the lace-less version of mens dress shoe styles. This pair is more formal than the Derby and less formal than Oxford.
Signature Elements
A Monk Strap is similar in shape and construction to an Oxford, but instead of an eyelet closure, it has a wide swath of leather fastened across the front of the shoe. This shoe type has either a single or double-buckle closure.
How to Wear Your Monk Strap
This classic alternative to laced dress shoes adds a certain panache to any outfit.
The monk strap is considered very versatile because it can be worn with cuffed jeans or formal suits.
Monk straps attract attention and may at times become the focal point of an ensemble.
Monk strap shoes are often crafted out of leather or suede and will sometimes have decorative brogue.
Loafer Shoes
The loafer is a moccasin-inspired shoe that is known for its slip-on style.
Signature Elements
Loafers often have a saddle — a decoration that might be a plain strap, a strap with a slit (as with penny loafers), or a metal ornament. Tassels or a kilt might hang from a saddle. Yet the minimalist loafer (the Venetian) has an exposed vamp without embellishment.
A signature element of loafers is an elevated seam that runs along the toe.
A casual variant of the loafer is the moccasin or driving shoe. These are made of soft material, are less structured, and have soles and heels made for comfort.
How to Wear Your Loafers
You can wear the Venetian loafers or embellished loafers with suits for formal occasions.
You can also opt for casual styles with rolled jeans and some watermelon socks.
The Chelsea Boots
The Chelsea boots became the practical alternative to rigid Victorian boots and quickly became popular.
Signature Elements
These ankle-length boots have rounded toes, low heels, and elastic gussets on the sides. Because of their elastic nature, you can wear it with ease. In fact, the absence of laces contributed to Chelsea's slim, clean shape.
The vamp and quarters are made from a single piece of leather, which keeps switching to a minimum for a tidy look.
How to Wear Your Chelsea Boots
The simplicity of these boots makes them perfect for jeans.
If you purchase the suede Chelsea boots, you can use it for a smart-casual ensemble.
The Chukka Boot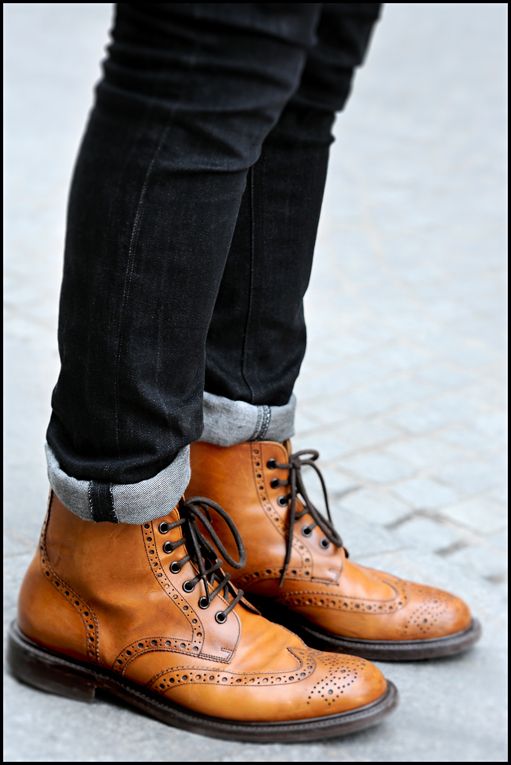 A lace-up boot with only two to three eyelets on each side.
Signature Elements
Chukkas are ankle-length boots with few eyelets. The absence of many eyelets and the short shaft allow for an absolute fit that won't disrupt your trouser leg shape. Also, Chukkas have a rounded toe, minimal stitching, and open lacing.
They are traditionally made of soft suede, but there are now many versions from which to choose.
Desert boots are a much more casual, rubber-soled version of the Chukka boot.
How to Wear Your Chukka Boots
This is the version of comfortable dress shoes for men.
Do not wear them for formal attire. Rather the leather will make your casual outfit look smart.
The Opera Pump
The Opera Pump is the most formal pair of mens dress shoes. You can wear this to black-tie events and have the eyes rolled over you. Our mens dress shoe guide has this pair at the end because it's the best dress shoes for men.
Signature Elements
These are slip-on dress shoes. They are traditionally made of patent leather and are adorned with a grosgrain bow.
How to Wear Your Opera Pump
These are not so popular but they make a huge difference in making an appearance at a full-dress event, for instance.
If you have what it takes then pair the Opera pump with a tuxedo or a wedding suit.
We look forward to seeing you look absolute. Get one of your choice mens dress shoes and comment below for the one you purchased.