Coloured Suits Can Take Your Style To Bold New Heights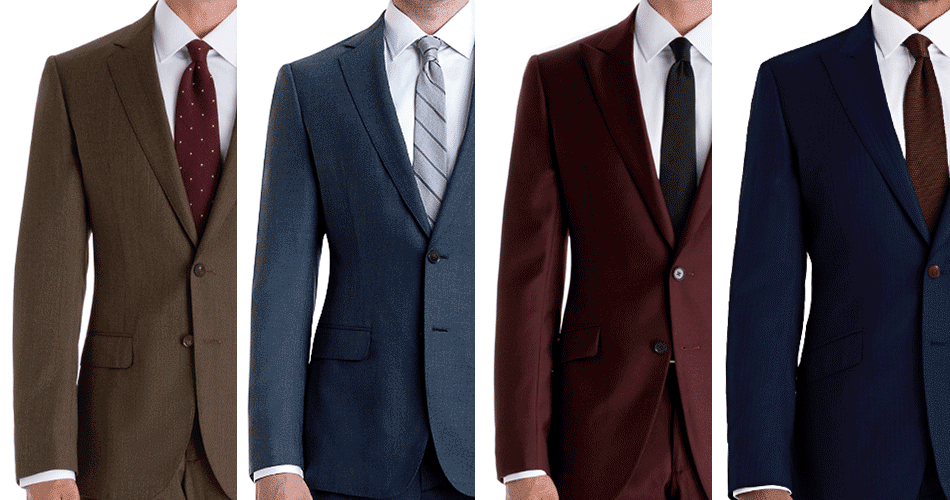 As time has passed, more options have been included in the wardrobes of men instead of those two charcoal grey and navy blues. You can easily add these bright colours in your suit and you easily nail your look without any worries of judgments. Although the vibe of that kind of wardrobe gives it hard to understand whether the person wants to be taken seriously or not. So there are two ways of getting around these wardrobes, one is the right, and the other is wrong. You would not want to add in a lot or even too little of colour in your wardrobe. So you need to know how to take advantage of the colours in your wardrobe and understand that fine like stopping yourself on certain levels. 
Coloured Staples First
It would be better when you stick to your staple colours out of all in the initial steps. The reason for that is they are a safe bet and not for the sake of traditions only. While you wear these staples, you would look timeless and have versatility in your personality because of it. Moreover, they would never get out of style and can be easily worn during summers and winters. To contrast some colours with them, the bold ones would be a great choice. Every kind of skin tone looks remarkable in these staple coloured suits. 
Pick Your Colour Based On Seasons 
Many of us easily get cringed when that wanker who is overdressed in the office keeps talking about his summer rotation. Even though you hate it, it is true to a point. Some of the colours look great in specific seasons instead of all the season for a fact. Even science says that dark colours absorb more heat so you would wear them during winter instead of summers. And those neutral tones are great to let your skin breath air in those summer days but you can still experiment if you want to. 
Beware the Suit Colour Salad 
You would not want to mix in different colours even if you are with the kids and painting with them. Although it is not bad but too much colour does not have a good impression on others about you because you seem to be somehow clueless about trying too hard to be complemented. In those Fashion Weeks, when men are wearing colour salad outfits, people assume that they want attention and to be seen by others, that too not in a good way. Gentlemen do not add in many colours. You would want to keep the things interested and the lighter colour should complement the other. 
Use Colours In Suiting Sparingly 
Everyone has heard the famous expression "pop of colour" which is a thing in reality. You can have those bold colours in small quantities so that your outfit could be uplifted because it draws the attention of others easily and these are the tie, the pocket square or any other accessory that is included in the suit. 
Although restraint is much more important the colour itself. That pink tie on the navy suit looks chic but if you add that pink in your tie, the socks, even the shirt, then you would look like an estate agent who has come to enjoy the races, not a look someone wants at those occasions. 
Use the Colour Wheel To Help With Suit Colours 
We understand that you would be hesitant about adding in different tones in your outfit and for that, we have a suggestion for you. Have a colour wheel and look upon it. As accepted globally as being the framework for the optimal colour marriages, you would get an idea which colours you would want to avoid in your outfit. You would also have a look over the contrast of the colours on your outfit which would complement each other. Lastly, you may struggle with the combination of the shirt and the tie as you might not have an idea which would look nice, you can go to the colour wheel and decide just like that and have no double thoughts about it later on. 
Employ Colour Blocking In Your Wardrobe 
You might be tired of all the old tricks which are the same, for that, we would suggest you yo colour block which is related to the Dutch artist Piet Mondrian. It has a specific technique for it as it has two to three different solid colours in separate blocks. It would have a bold and dramatic look to it which would faint your heart without any intention of that. 
But as a matter of fact, it has its tricks on the eyes, it can even make you look a bit taller if you want to and leaner when you choose those darker tones. As hard it would be, you may start with two colours which would complement each other and go for those riskier combinations which would blend those clashes.