Wedding-Worthy Alternatives to Tuxedo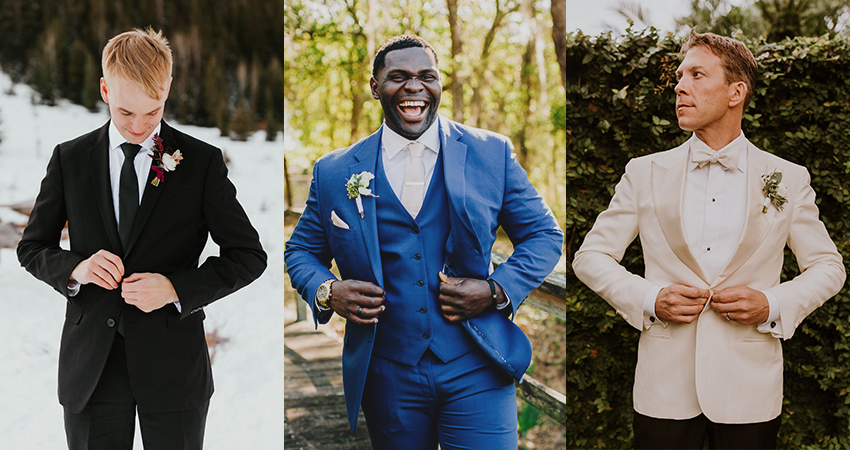 Just because black is the most timeless colour out of all does mean no other colour would work for you. Indeed, a man is mostly known because of his clothes however everything works with each element of the wedding including the location, the time of the day alongside the amount of formality of the wedding; and by this, the personality of the groom would be considered according to it which could be any other way and not only the traditional tuxedo. Some of the looks of the groom and the groomsmen for the formal wedding is pretty much alike and they look quite cool as well. 
It could be how all of the groom squad along with the groom and how they can wear the similar tuxedo styles except the grooms colour of the suit would be in a different shade with those brown leather oxfords and boutonnières and the ties. 
Other than that, the whole squad including the groom can wear the off white tuxedos and white shirts with those white shirts but the boutonnières of the groom would be different and bigger than the rest while completing the look with dark brown or black oxfords. 
If you want to try some earthly colour with your groomsmen, the mint green with greyish shade with pink checked ties with different boutonnières and the dark brown leather shoes. 
While you know the wedding event is due in the daytime, going for the light blue shade for the tuxedos and white trousers while all the groomsmen squad including the groom wear a red tie for the best contrast and ending up boutonnières as the groom would be the only one having a different one and black leather shoes. 
If the wedding is on the beach, you can easily wear the sand-coloured tuxedos with white shirts and flip flops underneath them and lastly having the boutonnières on. 
ALSO READ: 9 Grooming Tips for the Groom to Prep for the Wedding
Lastly, if it is a wedding in some hall then you can wear grey tuxedos with double-breasted vests and ties where the groom can wear a white tie while the rest wear purple ties and boutonnières on the tuxedo.