6 Fashion Rules for Grooms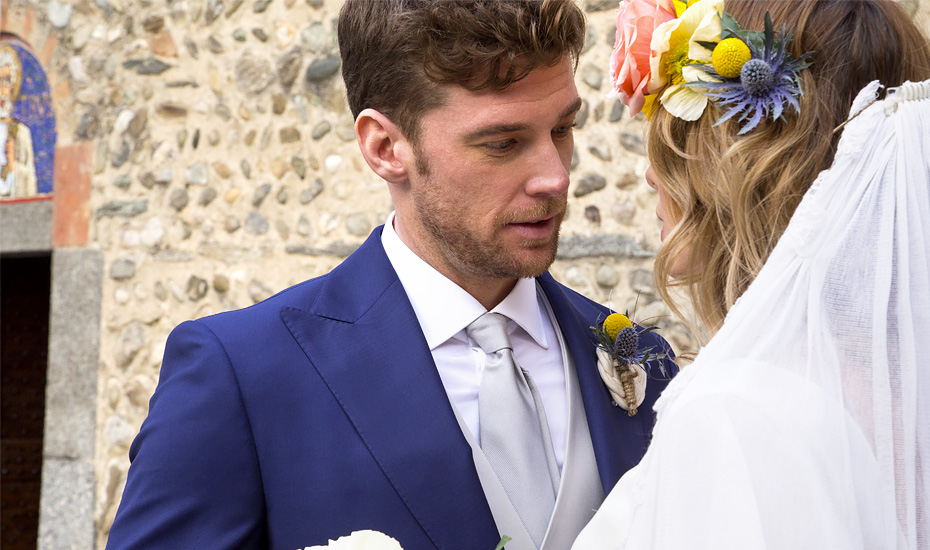 Fashion Rules for Grooms
All you want to do is feel stylish as well as compatible with your significant other for your big day. So all you need to do is follow these rules we are about to mention. 
As you being the groom of the day, all eyes would be stuck on you waiting for something different and unique than everyone else. Due to that, you would want to look your best on your main day, but you need to consider what to wear? Well, you don't need to panic or worry because we are here to help you out. We would make sure to make you look the best when you are about to 'I do!'
Your suit or tux should fit the formality 
Blue Tuxedo by GentWith
Make sure that you consider the venue and theme of your wedding while deciding for your attire of the day. It needs to be vibing with everything present that day. But if your wedding is during the daytime and that too, outdoor then you can consider wearing something casual like those light colours of the suit with seersucker is khaki fabrics. However, if it is an evening wedding in the ballroom or some swanky hotel, please go with dark and solid colours but make sure that your tux or suit should be well-tailored. Now you are considering about going more formal? Oh, the game of white tie is unbeatable. That black tailcoat along with the white shirt and white bow tie is the ultimate formal wear as well as the ideal for an extra luxurious venue. 
Your attire should coordinate with your partner's 
You want to be the great couple in your social circle, then make sure you guys move together while choosing the wedding attire's because that is the initial step to show off that how great of a couple you are. Although may not know what your partner is wearing, but you will want to work your outfits the bed. Now if she dresses in a bedazzled call gown, you would make sure to not we're something lightweight like linen suit with it. The combination that would work out is a rustic lace town that would be paired with a tailored tan suit, or else a streamlined city chic gown with a slim cut grey suit. 
READ: Must-Have Groom and Groomsmen Pictures
Your body type should dictate the suit
You need to consider and look after your body type while choosing your attire because looking sharp is the best way to nail your look of the day. If you are slim and tall, those suits and tuxedos would look great on you. To add more volume and bulkiness in it, you may want to try a double-breasted suit that would help to make you look broader. Now to slim it down, you may want to try having a fitted suit along with a bit of a nip in the waist so that you could give the impression of a leaner silhouette. Those darker shades and hues are always successful in making you look slim so you better go for them instead of anything else. But to elongate your body, you might want to go for a two to three-button jacket, but with a lower button stance. 
The fit should be perfect 
Slim Fit Tuxedo by GentWith
Now you consider to spend all your extra money on the expensive tux and when it does not fit you, then honestly it would make you feel awful and bad about yourself. So you should not need to do that. You need to move around easily like doing lots of twisting and turning as well as raising your arm as it would make sure that there is quite a lot of mobility left for you to show that you dance moves. Irrespective of renting or buying, those custom-tailored purchases are the best. Those come up with the following rules:
The sleeve hem of the jacket should line with the wrist bone which would show one-fourth to half an inch of your shirt cuff showing below. 

The jacket's bottom hem should cover the butt, however, it should not pull open the vent. If that does not happen, it means that it is too tight for you. 

There are not supposed to be any gaps or bulges on the back or the sides of the neck collar as it should lay flat. 

 The fitting of the pants should be comfortable while standing and airing and need to break on top of the shoes so that they could cover the top one-third. 

A snugly fit of the bow tie around the collar is the leveling up the game. 
Your look should coordinate with your attendants
The attires of the groomsmen and the groom are the same or similar in away in some way but it is up to you how you want that. The outfits styles and feels should match up with your guys even if you do not plan to do something else. Having a cohesive wedding ceremony and the party is something we like to see in the trend. So to attain this, you need to pair up with your groomsmen style that coordinate with the bridesmaid dresses. Like if the bridesmaid is going for a rocking vintage vibe, then the guys can do a retro three-piece suit. 
ALSO READ: Everything You Need to Know about Tuxedos
Your accessories should set you apart 
You need to pick extras once you are done matching and coordinating with your guys. That unique look comes with the little details you tend to add in it. You need to add up that bow tie and boutonniere along with that best and cummerbunds or cuff links in different colours and styles. Considering the colour palette of your wedding, if there are two main colours in it then you can wear one of the shades while the other could be worn by your guys. To give that luxe touch, you can make your guys wear a tux with a black bow tie and vest as you wear white now and best. You do not need to be afraid to show the world your personality in your own way. You can add a treble clef to the boutonniere if you love music, or Star wars inspired cuff links if you are a nerd. 
You still have no clue that what should you wear on your wedding day, then you should take a Style Quiz to know your style. Because once you have the idea of what you are looking for, then it would be easy to find your style. Keep your guests informed and excited for a free and personalized wedding website by telling about your plans while looking through the Guest List Manager so that you keep yourself about the attendees. You can update everything at once by syncing your Guestlist manager and wedding website.