Tuxedo vs. Suit: Which Should You Wear on Your Wedding Day?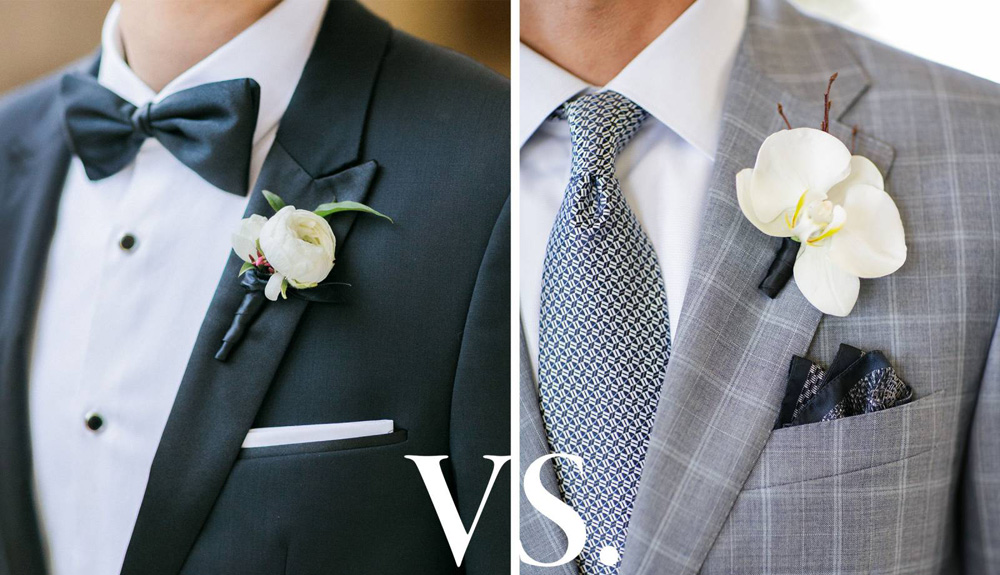 Tuxedo vs. Suit Which Should You Wear on Your Wedding Day? To discover the differences between a suit and tuxedo, all you need to do is read about the Knot's side-by-side comparison. Because it would be much easier for you to choose when you start to consider what to wear on your big day.
Most people are unable to comprehend the main difference between a suit and a tuxedo. Now, the styles are changing vastly, so fashion related to tuxedos is making it harder to consider. That James Bond look of the dinner jacket along with the bow tie is always stuck in everyone's mind when they hear about tuxedos. But recently, a lot of styles go beyond that traditional black and white with newly introduced styles in different colors like tan, grey, or even navy. 
Whatever is happening in your social circles like any occasion or event, or even your own wedding, you must know the difference between a suit and a tux. Also, keep in mind that the appropriate time to wear these outfits should be given consideration.
Tuxedo vs. Suit Differences 
Satin Tuxedo by GentWith
Tuxedo vs. Suit Which Should You Wear on Your Wedding Day? With the new improvements in the clothing lines, the games of tuxedos have also elevated. Those characteristics are as follows:
Satin: Those satin details are the main physical differences that set a tuxedo and a suit apart from each other. The satin-faced lapels with those satin buttons slaying side-stripe down the legs on the pants are not included in the suits. They are a part of tuxedos. Sometimes the modern tuxedos use the satin to a limited with a thin trim of the lapels and stripes on the pants and are still considered to be a tuxedo. However, the jacket lapels on the suit and the pants are all of the same material. The suit will have the satin buttons would usually have a big, plastic, or even fabric-covered buttons. 
Accessories: The traditional and classic tuxedo has the cummerbunds, the waistcoats, and suspenders with the self-tied bowtie. Although not many accessories are needed for the men to make them look formal. On the other hand, suits could be more casual and versatile than tuxedos, and you could dress according to your will of looking formal. You could add up the accessories and could consider whether to wear a vest or not. They could even look great by wearing a long tie or a bowtie. 
Shirt style: The shirts that are worn with tuxedos have a wing collar, or they could turn down the collar as well. But with suits, any type of dress shirt with any solid color and pattern could be pulled off with it. 
Shoes: With tuxedos, the black patent leather shoes just look perfect. And with the suit, the loafers, oxfords, slip-on shoes are quite acceptable.
Events:

 If the evening events are formal, then they usually ask for a black-tie wedding look. For instance, the events like the nights at the opera, or even the charity galas. The suits could be worn at any time, and on any day without any fuss. They could be worn even at the dates and business meetings. 
READ: Wedding Day Prep Tips for Grooms
Tuxedo vs. Suit Price
Suit by GentWith
The three-piece suit of high quality could be bought around $300-$800. Now, if you look for a great suit, it would obviously cost you less. Just keep in mind that you would still need to buy the other things that would be around $30-$100 considering the alterations as well. 
Multiple wears: 

A suit could be worn multiple times as compared to a tuxedo. Because every man needs a formal suit to be present for the whole time in his closet. The best part is that the accessories could be worn with it as well. 

Buying: About $700-$1000 is needed to buy a tuxedo jacket and pants. It would still cost more than a suit, even if you get it on sale. Then you would have to consider the accessories and alterations. 
Renting: 

The high-quality wool tuxedo is around $150-&250 on rent including the shirt, vest, and other stuff. If you have a big social circle where you would be able to wear your tuxedo more than two times, then it would worth buying, else renting is the best option. 
Not all those tuxedos give the breathtaking look. By showcasing their own styles, every tuxedo acts about to be unique. That tropical black tie tuxedo is mostly seen in movies or red carpets with a white dinner jacket, white shirt, black pants, and black tie. Although suits tend to give more style and color options. So if you want more freedom, go for it. 
Suit or Tux for a Wedding? 
There are a few factors described below that you may want to consider while deciding what to wear at a wedding. 
Time: 

Tuxedos are best for evening times, and suits would be much better for a daytime wedding. Any choice would be reasonable considering that the event is starting during the day and ending in the evening. 

Theme:

 Black-tie wedding always requires a tuxedo, and the casual wedding is easily covered with a suit. Considering your bride, if her dress is too formal, then go for a tuxedo, and if she is wearing a tea-length dress in summer, then the suit would be better. 

Personal preference:

 Some groove wants to do something special on their wedding, so they choose to wear a tux. Even apart from the differences, it is on you what you want to wear, and what makes you feel comfortable on your wedding day. But you may want to have an opinion of your partner as well to look after the color combination to make your styles match with each other. 
ALSO READ: DO's and DONT's for Men Wedding Guest Attire
Your groomsmen can wear it as tuxedos as well for the continuity, or wear suits so that you look different along with the accessories. If it is not your wedding, then look closely at the wedding invitation and wear your attire accordingly. 
But if you are not sure enough about what you can wear on your wedding day, then you should take this style quiz to know what is your style, and how would it fit into your unique personality. You can look into the groom style articles and advice as well.