Types of Suit Every Man Should Own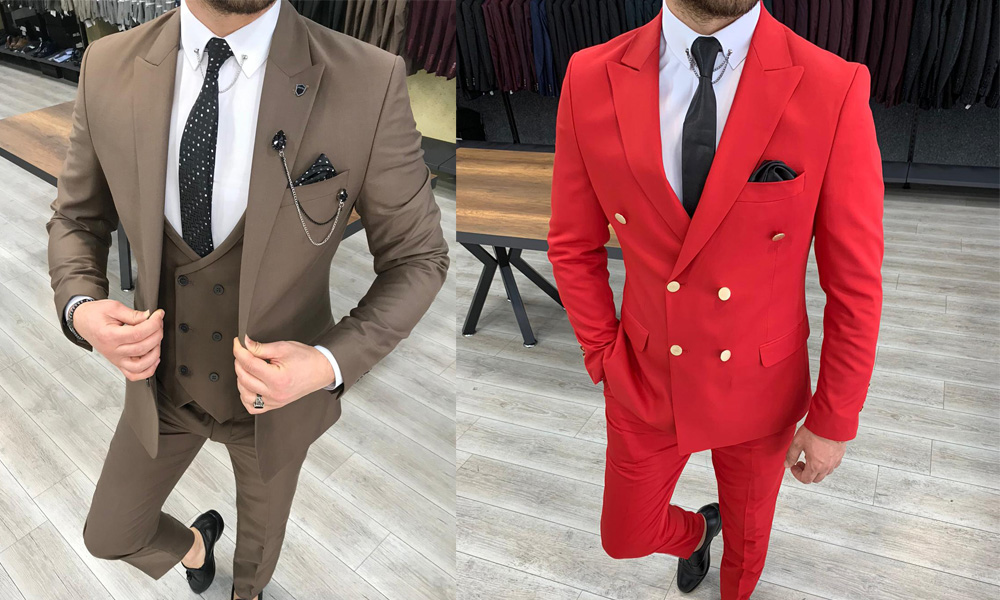 Many guys do not want to fill in their wardrobes. When the time comes, they try to figure out how to get out of that darkness. For every guy, suits are necessary once they grow as an adult. It is like an insurance policy for those professional and social events that you try to spend with minimum cost. So whatever color you choose, let us help you and guide you to establish a tailored wardrobe. Not like those IKEA ones, but the ones which would cover your events while staying economical and would turn out to be great. 
The Plain Navy Two-Button Suit 
 If you want to have a similar kind of suit like the black one, then make sure it is a plain navy one that has two buttons on it along with a notch lapel in that mid-weight fabric. Anything else in it would not make much difference apart from these additions. 
It would cover any of your events or occasion like job interviews, weddings, even court appearances. It is like you can wear it all year round. The materials fitness matters because of the wrinkles on it, it would be unsuitable for daily use in the longer run. The word fine could also be interpreted as delicate that is why if you get the first suit, you will wear it repeatedly. There should be durability in it as much as affordability. 
You could wear the suit pieces as separates with the other wardrobe of yours if the material would be birds eye, light flannel, and hopsack. Those patch pockets and the contrasting buttons would help out in this, whereas they might make the suit look smart-casual one. 
The Plain Grey Two-Button Suit

 
The cavalry is the other workhorse of tailoring. If your navy-blue suit cannot function more, that is when the grey suit comes to the rescue and is always ready to make you look great. The charcoal shade looks more formal in winters, and light grey in summer. The mid-grey could be worn at any time of the day. You need to choose a shade or a fabric that you could wear with anything. 
READ: How to Dress Well: The 15 Rules All Men Should Learn
You need to avoid patterns of ravenous cashmere chomping moths. As it makes you look like the Prince of Wales. Similarly, no one would remember you wearing it again and again. 
The Dark Double Breasted Suit 
You would wear light-weighted fabrics in hot summers, whereas you would consider the other way around in different seasons. You can slay a look when the double-breasted suit would act as a dark horse of yours. Those fabrics of sheen, mohair, and peak lapels in navy, midnight blue, and grey-black would do just fine. 
A double-breasted suit is considered to be versatile that you could enter your everyday rotation in. You would be considered as a swagger because of those sharp lapels and sheets. The cut is not supposed to be too long and should be trimmed. 
SHOP GENTWITH DOUBLE BREASTED SUITS
As with the time, when you get older, you get more and more invitations of black-tie events. The purpose of them is to make you feel like you are one of the ideals who have won Oscar nominations for the Best Actor. You would not want to rent and feel uncomfortable in hundreds of men around you. Instead, you could save your money by spending this for once and wear the suit for 2-3 years straight. You would easily boss in them.  
You would still look graceful even if the occasion is not for that purpose. You would be able to wear the jacket with a T-shirt and jeans for a night out. So the point is that you would always have excuses to wear them and have more invitations for nailing that look at many other events. 
ALSO READ: How to Be a Stylish Groom, Based on Dress Code
For the summer weddings, shorts look greater than a full suit. It could add the touch of formality by choosing the right textiles for it. You would want to go for extreme lightweight open weave linen, hopsack, and seersucker because those are a better choice. With that, you may want to consider its construction. They are usually unstructured and relaxed cut, which helps in rising up the Riviera spirit of summer when you choose the earthy and Patel tones. These colors always look the best with tanned skin. 
You would still want to buy this suit even if it is not pertinent. You would always stand out like the Prince of Wales. The windowpane, Tattersall, and houndstooth when you wear this. You could go for more subtle patterns in addition to the suit that could be tonal, as like wearing the check jacket with the black trouser as it would make a statement of yours. You just need to be sure about having a sharper cut than David Gandy's jawline and wear it with a solid shirt and tie and be ready to join the big leagues in the menswear.