White Jeans Aren't Just For 80s Pop-stars; Here's How To Wear Them With Style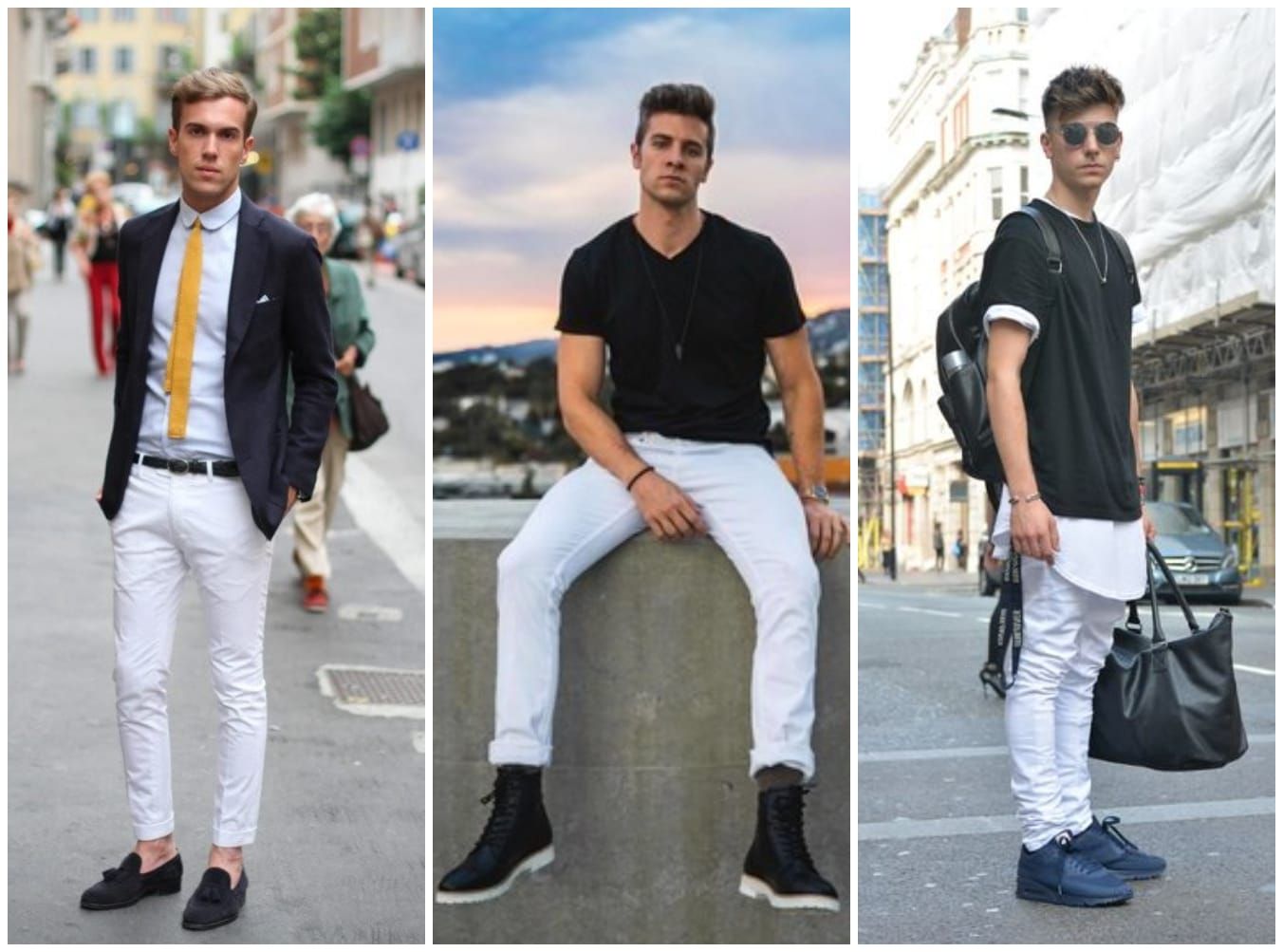 Back in the 1980s, the white jeans were considered to be the fashion pariah. These were tight, bright and light. Now they are an epitome back in Europe as they are quite stylish, along with that they have much versatility to it but most of the times, lads are afraid to carry it. It is not as easy to go with like those blue washed counterparts, so these can be pretty daunting to most of you. If you mistakenly wear it wrong, you would look like George Michael wannabe and it would be hard to be for you to look classy like you want. So for that, we are here to guide you that how can you go for these white jeans in different categories in that contemporary way. 
What Top To Wear With White Jeans 
While wearing white, you would want to wear a button-down shirt. Although you can consider a subtle colour for it which for sure needs to be the right one. Do not go for those pale shirts because it would like you are the backup dancer for the occasion. So better go for the dark options like indigo chambray shirt with those jeans. 
If not that, then you can go for the patterned shirt including maroon paisley or some thick stripe in a silky texture. When you go out, it would look like you are ready for the party during the summer and is much better than the standard fashion style of those blue jeans. 
Just like that, you can even dress casually while having a tee-shirt on yourself. You can have that denim or khaki with the navy tee shirt. By this, you can have the advantage to yourself of having tan skin to yourself. 
How To Dress Up White Jeans 
Nothing can beat that fanciness of wearing the white jeans with the blazer in navy colour and could look like a smart casual outfit as well but with some high standard. Have the pale blue shirt on it or even the single linen blazer which makes the outfit simple and elegant. 
Deep down if you feel like going a bit bolder, have some monochrome variation with the beige coloured blazer. If you hate the white-on-white combination, you might want to have the dark brown suede belt along with loafers. In this, it would look like you are relaxing your summer wedding or even the polo match. 
What Shoes To Wear With White Jeans 
As you wear white jeans, it would be nice to show your ankles a bit and for that, go for the loafers in your footwear or the monk straps as well. When you do not wear the socks with it, it feels like you are here for enjoying the occasion completely. 
Look before choosing whether it is too heavy or severe for you look. The suede tasselled loafers are the kind of option which could be worn anywhere and anytime. Else you can go for the white-low top sneakers which looks more casual than ever. Better to go for the Adidas, Suit Supply and even Common Projects to not look much bulky. 
What Jackets To Wear With White Jeans 
Some people think that white jeans only look nice before the labour day and not after that. Well, guess what, they could be great for your winter outfits as well because it gives that fresh look to your whole attire when you wear it with those sweaters and jackets. You can even wear them with a camel tone coat which has heavy wool style to it adding a scarf to it lastly so that you have that sporty vibe a bit. 
Other than that, you can wear a colour blocking outfit which is like wearing a navy crew neck sweater on the white jeans and topping it with a windbreaker jacket because, by that, your winter wardrobe diversifies a lot instead of just those regular dark hues.
What To Look For When Purchasing White Jeans 
You would want to keep a few pointers in your mind before buying white jeans and you better focus on them. If this is going to be your first buy, then have a slim fit which is cropped at the ankle neatly. By this, you can wear it to different occasions because this style of white jeans is quite diverse. 
Apart from this, you can go for the one which does not have unwanted details to it while styling. Sometimes the extra zips and the studs could be too much which seems to be tacky, these extra zips and studs look nice only sometimes. 
After this much guide, you can get an idea of what to go for the ideas which would help you look decent and classy while making you feel comfortable as well. These white jeans look fabulous only when they are white and not some cream shades.